Workplace death toll set to soar in China
By Fu Jing (China Daily)
Updated: 2005-07-14 05:47
Workplace deaths and injuries are expected to continue rising in China for years to come amidst an already-grave work safety record.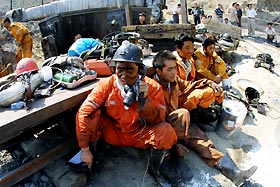 Rescuers wait at the pit entrance before going down to rescue victims after the blast in the Shenlong Coal Mine in Fukang, Xinjiang Uygur Autonomous Region, yesterday.[newsphoto]

A team with the State Administration of Work Safety based the warning on the fact that China will accelerate industrialization in the years leading to 2020.

"International experience and lessons from developed countries have already proved that in this phase of industrialization, it is easy to see occurrences of death and injury in the workplace," said Administration Vice-Minister Wang Xianzheng, who headed the research team.

The latest disaster happened at the Shenlong Coal Mine in the Xinjiang Uygur Autonomous Region, where 83 miners perished, said Wang Dexue, another Administration vice-minister. The agency attributed that disaster to over-mining and unauthorized production.

The research also found that when a country's per-capita gross domestic product is between US$1,000 and US$3,000, the rise in workplace deaths and injuries is difficult to curb.

A group of 14 researchers made that finding after three years of research into the work safety records of industrialized countries such as the United States and Japan, said Huang Shengchu, president of the China Coal Information Institute, who headed the group.





| | |
| --- | --- |
| | |
| Special police detachment established in Xi'an | |

| | |
| --- | --- |
| | |
| Panda cubs doing well in Wolong | |

| | |
| --- | --- |
| | |
| Suspect arrested in Taiwan | |
Today's Top News
Top China News

Taiwan's KMT Party to elect new leader Saturday




'No trouble brewing,' beer industry insists




Critics see security threat in Unocal bid




DPRK: Nuke-free peninsula our goal




Workplace death toll set to soar in China




No foreign controlling stakes in steel firms