Tang's visit paves way for six-party talks
By Qin Jize (China Daily)
Updated: 2005-07-13 05:56
Chinese State Councillor Tang Jiaxuan, a special envoy for President Hu Jintao, arrived in Pyongyang yesterday to pave the way for a new round of Six-Party Talks on nuclear disarmament.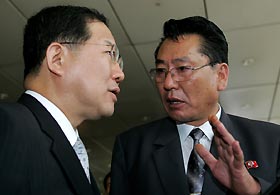 The head of DPRK delegation, Choe Yong-gon (right), deputy minister of construction and building material industries, talks with his ROK counterpart Bahk Byong-won, the vice-finance minister, as he leaves the airport to return to Pyongyang after the inter-Korean economic talks in Seoul yesterday.[AFP]

He met with Pak Bong Ju, premier of the Democratic People's Republic of Korea (DPRK), on "important issues of common concern," Xinhua reported yesterday.

The three-day visit comes ahead of the expected resumption of the Six-Party Talks and two days after US Secretary of State Condoleezza Rice concluded a 20-hour visit to Beijing on Sunday.

Foreign Ministry spokesman Liu Jianchao confirmed yesterday that resumption of negotiations on the DPRK's nuclear development programme would be high on Tang's agenda. He said China, host of the Six-Party Talks, had begun arrangements for the meeting, and although no exact date had been set, talks are expected to take place during the week beginning July 25.





| | |
| --- | --- |
| | |
| Special police detachment established in Xi'an | |

| | |
| --- | --- |
| | |
| Panda cubs doing well in Wolong | |

| | |
| --- | --- |
| | |
| Suspect arrested in Taiwan | |
Today's Top News
Top China News

Taiwan's KMT Party to elect new leader Saturday




'No trouble brewing,' beer industry insists




Critics see security threat in Unocal bid




DPRK: Nuke-free peninsula our goal




Workplace death toll set to soar in China




No foreign controlling stakes in steel firms