Is this young Kenyan Chinese descendant?
(China Daily)
Updated: 2005-07-11 09:18
Nearly 600 years ago, 20 Chinese sailors swam ashore an island off Kenya's east coast, having escaped from a shipwreck.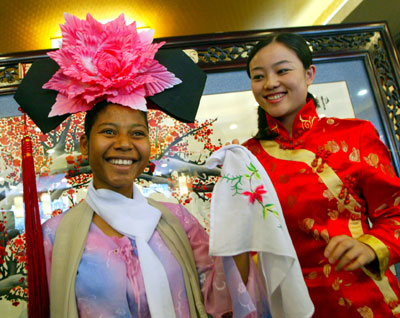 Mwamaka Sharifu: Descendant of Chinese sailor? [newsphoto]


They went on to marry local women and convert to Islam.

Now a 19-year-old girl who claims to be one of their descendants has come to China to study, having been given a scholarship by the Chinese Government.

Mwamaka Sharifu, from Lamu island in Kenya, will begin her studies in September.

She says she is a descendant of sailors travelling with Chinese explorer Zheng He (1371-1435) in the Ming Dynasty.

Sharifu's story has attracted a lot of attention, as this year is the 600th anniversary of Zheng's first major voyage around the Indian Ocean. Some scholars believe Zheng is the first man to travel a direct sea route linking the Indian Ocean with the West.

Countless exhibitions, books and documentaries began coming out in China about his adventures. Sharifu was invited to China and arrived on July 1.

"I feel proud and happy to be part of it," she said. "I am looking forward to studying in China."

Sharifu said she admires Zheng's courage and adventurous spirit. "I was born as brave as my ancestors," she said. "It is rare for girls in my Muslim village to go so far to study, to such a big and different country."

"My mum and dad were worried about me. But I told them I will be fine in my home country."

Born to a poor family, Sharifu's father, Sharifu Lali, a fisherman, 55, and her mother Baraka Badi Shee, a housewife, 53, couldn't support her university education.

"The scholarship will change my life and the lives of the rest of my family," she said. "I believe that through hard work - a characteristic of the Chinese - I can make a better living."

Having already been to Shanghai, Taicang and Nanjing in Jiangsu Province, Sharifu appeared quiet when arriving in Beijing on Friday, where she will tour the Great Wall, the Forbidden City and Tian'anmen Square.

"China is far better than I thought. It is so beautiful and well-planned," she said.

"Beijing is a big city," Sharifu added. "But Taicang city will always be a special place for me as it is said it is where my ancestors came from."

Located in East China's Jiangsu Province, Taicang is where Zheng set sail from.

Legend in Lamu Island says two of the Chinese ships struck rocks off the eastern coast of Kenya and 20 sailors swam ashore. However, local tribes said they could only stay if they could kill a big python in the village.

One sailor - a master swordsman - lured the python out of the cave and killed it. The Chinese sailors stayed, married local women and converted to Islam.

The heritage of Chinese descendants in the African village has been passed on from generation to generation, not by written records but by oral tradition.

"My grandma said some Chinese sailors came to Kenya by way of the Indian Ocean. Most of them died after a storm at sea but some survived," Sharifu recalled.

Now, only six people on the island of 7,500 people are known as Chinese descendants. They are Sharifu, her mother, her two sisters and two younger brothers. However, despite Chinese porcelain being unearthed on the island and the existence of Chinese folklore there, it is not known if the group really are descendants of Zheng's sailors.

Sharifu said that in 2002 some Chinese experts came to her home and cut some of her mother's hair for DNA tests in China. Later, she said, they told her mother that she was a Chinese descendant.

The teenager was calm when being questioned about her Chinese blood, saying that people have a right to doubt her. "Asking questions will help people know more about me. And I am convinced that I am a true Chinese descendant."

Sharifu's story was put under the spotlight after she wrote a letter to the Chinese Embassy in Kenya last year, expressing her wish to pursue a higher education in China.

"I want to learn traditional Chinese medicine (TCM) so that I can treat my people in Kenya after graduation," she explained.

The Muslim girl wore a grey silk scarf around her neck.

"When I was in Kenya, I used to wear the scarf on my head. But now I keep it lower, because I think people here like to see me."




| | |
| --- | --- |
| | |
| Demi Moore: conquer aging with baby | |

| | |
| --- | --- |
| | |
| Lin Chih-ling injured in horse fall | |

| | |
| --- | --- |
| | |
| Jolie adopts Ethiopian AIDS orphan | |
Today's Top News
Top Life News

Taiwan's KMT Party to elect new leader Saturday




'No trouble brewing,' beer industry insists




Critics see security threat in Unocal bid




DPRK: Nuke-free peninsula our goal




Workplace death toll set to soar in China




No foreign controlling stakes in steel firms