US protectionist fangs bare in Unocal bid
By Matthew Benjamin (usnews.com)
Updated: 2005-07-10 22:04
Trade fury. There's no better term for the atmosphere on Capitol Hill these days. It's bipartisan, it's increasing in ardor, and it reached a frenzy last month when the House of Representatives overwhelmingly passed two measures aimed at slowing or blocking the purchase of an American oil company by the Chinese National Offshore Oil Company. Ironically, the Chinese responded last week by lecturing Congress on the value of free markets.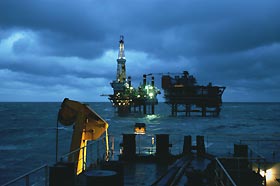 China National Offshore Oil Corporation's (CNOOC) oil rigs is seen in China's Liaodong Bay of the Bohai sea February 3, 2005. [newsphoto]

|
The current battle rages over an audacious $18.5 billion cash bid for Unocal, the ninth-largest U.S. oil company but one with rich assets in Asia. Unocal has previously accepted a $16.6 billion offer from Chevron, but shareholders will not vote on the deal until next month.

Other bills are in the works to toughen trade enforcement sanctions against China and to punish it for what some view as deliberate manipulation of its currency to gain an unfair trade advantage.





| | |
| --- | --- |
| | |
| Special police detachment established in Xi'an | |

| | |
| --- | --- |
| | |
| Panda cubs doing well in Wolong | |

| | |
| --- | --- |
| | |
| Suspect arrested in Taiwan | |
Today's Top News
Top China News

Taiwan's KMT Party to elect new leader Saturday




'No trouble brewing,' beer industry insists




Critics see security threat in Unocal bid




DPRK: Nuke-free peninsula our goal




Workplace death toll set to soar in China




No foreign controlling stakes in steel firms