France, Germany say Russia can't stop wider EU
(Agencies)
Updated: 2005-07-04 08:48

The leaders of France and Germany told Russian President Vladimir Putin in this Baltic Sea outpost on Sunday that EU enlargement was an issue for the bloc to decide, not Russia.

Russia has been alarmed at the growth of the European Union to incorporate former Kremlin satellites and its officials have hinted the crisis besetting the European constitution may be a good moment to put further expansion on hold.

"The problems ... of the constitution and enlargement, this is a problem for EU members," German Chancellor Gerhard Schroeder said at a joint news briefing with Putin and France's President Jacques Chirac.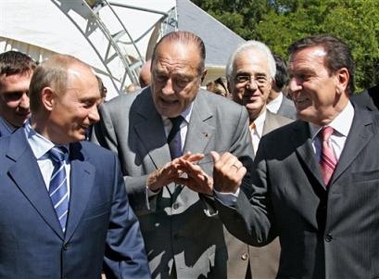 From left, Russian President Vladimir Putin, French President Jacques Chira and German Chancellor Gerhard Schroeder speak during their meeting in Svetlogorsk, some 40 km from Kaliningrad, Russia Sunday, June 3, 2005. [AP]

"This has nothing to do with what we describe as our strategic partnership with Russia," he added.

Despite differences over enlargement, Putin, Schroeder and Chirac appeared friendly and relaxed in each other's company.

All three will be at the Group of Eight (G8) industrial nations summit next week in Gleneagles, Scotland and their talks touched on the issues of climate change, Africa and United Nations reform that will be on the agenda there.

Chirac said the G8 leaders, after tough discussions, were "heading toward" an agreement on climate change at the July 6-8 summit, but he did not say what deal.

On Iraq, another issue likely to crop up at Gleneagles, Putin said past criticism of the U.S.-led invasion -- by countries including France, Russia and Germany -- should not get in the way of Iraq's future.

"All contradictions over Iraq should be left in the past. We must unite with the U.S., with those who are trying to change the situation in Iraq," Putin said.

Kaliningrad region, the venue for Sunday's meeting, stands as a symbol of how Russia and the EU are intertwined.

Formerly the Prussian city of Koenigsberg, it is now a Russian exclave encircled by EU territory.

Moscow is worried that if the EU continues its eastward expansion, countries like Ukraine and Georgia -- which are pulling out of Moscow's orbit after uprisings installed Western-looking leaders -- could join the bloc next.

The Kremlin is also unhappy at what it sees as anti-Russian sentiment in some former Communist-bloc states now in the EU: Kaliningrad's neighbors Poland and Lithuania were pointedly not invited to Sunday's get-together.

A senior Kremlin source said on the eve of the talks the votes in the Netherlands and France rejecting the European constitution -- a charter designed to help the bloc's expansion -- called for a new look at EU-Russian relations.

But Chirac joined Schroeder in gently rebuffing the idea.

"Europe is again undergoing a difficult period, you may call it a crisis," the French president said.

"This crisis will be overcome. In any case, it will not have any consequences for EU-Russian relations."

WARM ATMOSPHERE

Kaliningrad, the birthplace of philosopher Immanuel Kant, was this week celebrating 750 years since it was founded by Teutonic knights. It was signed over to Moscow in the Potsdam accords at the end of World War II.

The region's convoluted history raised a laugh at the news briefing when Schroeder said for Germans the city will always be Koenigsberg. But he corrected himself, saying: "Of course, I don't mean any territorial claims."

But that was in marked contrast to the chill between Moscow and the newer, eastern members of the EU.

Poland and Lithuania are Kaliningrad's major trading partners and provide the only surface transport links between mainland Russia and the exclave.

Both countries expressed displeasure at not being invited but Putin said on Sunday the three-way format for the talks did not allow for any other guests.

Russia is unhappy with Poland's role in supporting Ukraine's "Orange Revolution" last year, which propelled pro-Western opposition leader Viktor Yushchenko to power.

Moscow is annoyed that Poland and Lithuania used May's 60th anniversary of the defeat of Nazi Germany to air grievances about the Soviet occupation of eastern Europe after the war.




| | |
| --- | --- |
| | |
| Space shuttle Discovery launch delayed | |

| | |
| --- | --- |
| | |
| Blair plans measures to uproot extremism | |

| | |
| --- | --- |
| | |
| Pakistan train crash carnage kills 128 | |
Today's Top News
Top World News

Taiwan's KMT Party to elect new leader Saturday




'No trouble brewing,' beer industry insists




Critics see security threat in Unocal bid




DPRK: Nuke-free peninsula our goal




Workplace death toll set to soar in China




No foreign controlling stakes in steel firms