EU starts probe into Chinese shoe imports
(Agencies)
Updated: 2005-07-01 09:16
The European Union and China plunged into a second trade row on Thursday -- this time over shoes -- but Brussels said a deal was still possible over Beijing's surging footwear exports.
The European Commission, in charge of trade policy in the 25-nation bloc, began an investigation into whether Chinese and Indian reinforced shoes were being sold in Europe for less than they cost to make, a practice known as dumping or predatory pricing.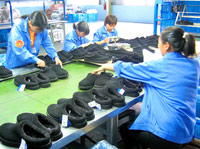 Chinese workers work at a shoe factory in East China's Zhejiang Province. [file/newsphoto]

The EU sees China as the main culprit. Its share of the European market in the heavy-duty shoes worn by workers in the construction and catering industries is much bigger and has grown more quickly than India's.

"If as a result of the investigation started today, it is demonstrated that predatory prices are practised then action will be considered," said European Commission trade spokeswoman Claude Veron-Reville.

The EU could levy extra duties on shoe imports from the two Asian states if it found that the footwear was being dumped.

The Commission wants to end the probe, requested by industry, within nine months and held out hope for a settlement.

"A negotiated solution is still possible," Veron-Reville said.

The Commission is also mulling a complaint against Chinese leather shoe exports.

Brussels and Bejing only recently resolved a dispute over surging imports of Chinese textiles to the bloc, agreeing to a maximum 12.5 per cent a year rise in imports until the end of 2007.

The United States has placed emergency curbs on Chinese textile imports and the two sides have failed to reach a deal.

SHOE TUSSLE

A senior Chinese official will visit Brussels on Monday to discuss trade and the shoe issue could be raised then, Veron-Reville said.

Beijing has already said it is firmly opposed to an investigation by the EU into allegations that Chinese exporters are dumping exports of reinforced shoes, known as safety shoes.

Indian shoe manufacturer Tauseef Mirza said the EU was the country's second-largest market after the United States.

Mirza, director of the shoes division of exporter Mirza Tanners, said he was confident India would escape a negative decision, "as we are not guilty of dumping or receiving subsidies from the government."

Although the Commission said Chinese textile and shoe exports have exploded since the scrapping of global quotas in both sectors on Jan. 1 this year, the data it released covered safety shoe exports in the period 2002 to 2004.

China had a 19 percent share of the EU's safety shoe market in 2004, more than three times its 6 percent share in 2002, the Commission said. India had a 5 percent share in 2004, compared with 3 percent in 2002.

Earlier this month, the Commission said there had been a year-on-year rise of 681 percent in imports of six categories of Chinese footwear -- excluding safety shoes -- in the first four months of 2005. Prices slipped 28 percent in the same period.




| | |
| --- | --- |
| | |
| Special police detachment established in Xi'an | |

| | |
| --- | --- |
| | |
| Panda cubs doing well in Wolong | |

| | |
| --- | --- |
| | |
| Suspect arrested in Taiwan | |
Today's Top News
Top China News

Taiwan's KMT Party to elect new leader Saturday




'No trouble brewing,' beer industry insists




Critics see security threat in Unocal bid




DPRK: Nuke-free peninsula our goal




Workplace death toll set to soar in China




No foreign controlling stakes in steel firms