Iraqi PM pushes for rapid Saddam trial
(Agencies)
Updated: 2005-07-01 08:32

Iraq's prime minister cranked up the pressure on magistrates investigating Saddam Hussein for war crimes, saying a trial could start in a month or two.

A stream of such statements from the government, which seems keen to get the former president in the dock before a December election, have already drawn frosty remarks about judicial independence from judges investigating the old regime's crimes.

The eagerness of the Shi'ites and Kurds now running Iraq for a swift trial and possible execution of the man who oppressed them for three decades is also at odds with what some observers say are U.S. preferences for a full-blown war crimes process that could bolster President Bush's justification for invasion.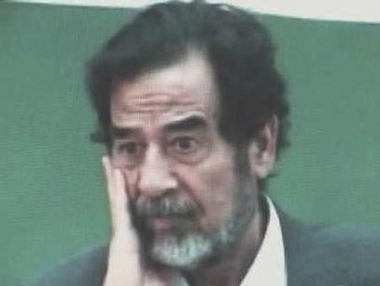 Iraq's prime minister cranked up the pressure on magistrates investigating Saddam Hussein for war crimes, saying a trial could start in a month or two. Hussein is shown in this undated handout video released June 13, 2005, during questioning at an undisclosed location. [Reuters]

And lawyers and officials involved in the process said on Thursday that Prime Minister Ibrahim Jaafari's comments that a trial could start on Aug. 15, Sept 15, or at any rate within three months, would call for the tightest of legal scheduling.

"We cannot pinpoint a specific date, maybe a month or two," Jaafari told reporters in Kuwait late on Wednesday.

"Maybe Aug. 15 or Sept. 15.

"But we have succeeded in making the deadline not to exceed three months, instead of being open-ended."

Tribunal rules stipulate a 45-day delay between a judge referring a case for trial and courtroom proceedings. The referral can only be once an investigation is complete. Tribunal sources have said the investigation might wind up in mid-August.

"If there were a referral today, I suppose a trial could in theory start in mid-August," said one official involved in the judicial process in Baghdad. "But it is improbable."

TIMELINE UNCLEAR

A month ago, President Jalal Talabani said he hoped a trial could start by late July, which is now impossible if legal forms are to be observed as Saddam's fellow minority Sunni Arabs have been demanding.

Official spokesmen for the Special Tribunal set up under U.S. occupation to try Saddam and his aides were not immediately available for comment. Nor was Saddam's attorney.

But a lawyer for Tareq Aziz, his former deputy prime minister, said when asked about Jaafari's August date: "No. A thousand times No. They can't do it, not even in September.

"I even doubt they can do it this year. It is very, very difficult. The investigation needs time. This talk is not about legal facts. It is political rhetoric," lawyer Badea Aref said.

Foreign Minister Hoshiyar Zebari said more cautiously last week that Saddam could go on trial by the end of the year.

Saddam and 11 of his top lieutenants are being held at a U.S. military camp at Baghdad airport and officials say a special courtroom is nearly completed in the fortified compound in the city center that once housed his presidential palaces.

While insisting they will not be rushed, magistrates have questioned at least 20 suspects and released video of several of them, including Saddam and Aziz, being interviewed, clearly keen to show it is pushing ahead with the judicial process.

Senior officials, including Abdelaziz al-Hakim, one of the main Shi'ite forces behind Jaafari, have complained of "foreign interference" holding up the trial -- apparently a reference to U.S. involvement behind the scenes.

Lawyers involved in the process have said Washington would prefer to wait to prepare a major war crimes trial, as at Nuremberg or The Hague, which might, among other things, bolster the administration's case for invading Iraq.

Others say, however, that a narrower trial might give Saddam less opportunity to argue the politics of the case or embarrass Washington by recalling its former support for him.

The Iraqi government says it may try Saddam over the 1982 killings of dozens of Shi'ite villagers at Dujail.

Though limited in scope it may be easier to prove his responsibility in such a test case, officials say. He and several aides have already been questioned on the case -- as many as 140 were killed after a failed assassination attempt against Saddam.

SYRIAN VISIT

Much of Iraq saw a respite from the Sunni insurgent violence that has marked the two months since Jaafari took power. U.S. Marines said they arrested 13 suspects in an operation against insurgents in the Euphrates valley, a key entry route from Syria for foreign fighters and would-be suicide bombers.

The U.S. military released figures showing there were about 100 car bombs in April and in May, compared to a monthly average of barely half that earlier in the year: "They've gone to more spectacular systems that can inflict more casualties per attack," said spokesman Brigadier General Donald Alston.

The United States and Iraq have complained repeatedly to Syria to stop Islamist radicals coming across its borders.

Visiting Syrian diplomats told Deputy Foreign Minister Hamed al-Bayati that they had already prevented 70,000 foreigners entering Iraq. They said they would open an embassy in Baghdad for the first time since Saddam broke with Damascus in 1980 over Syria's support for Iran in its war with Iraq.




| | |
| --- | --- |
| | |
| Space shuttle Discovery launch delayed | |

| | |
| --- | --- |
| | |
| Blair plans measures to uproot extremism | |

| | |
| --- | --- |
| | |
| Pakistan train crash carnage kills 128 | |
Today's Top News
Top World News

Taiwan's KMT Party to elect new leader Saturday




'No trouble brewing,' beer industry insists




Critics see security threat in Unocal bid




DPRK: Nuke-free peninsula our goal




Workplace death toll set to soar in China




No foreign controlling stakes in steel firms