US lawmakers tour Guantanamo prison
(Agencies)
Updated: 2005-06-26 14:18
American lawmakers on Saturday toured the U.S. prison for suspected terrorists for the first time since recent harsh condemnation of Guantanamo detainees' treatment have renewed demands that the camp close.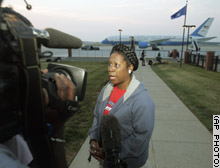 U.S. Congresswoman Sheila Jackson Lee prepares to board an airplane to Guantanamo Bay, Cuba Saturday.

"Guantanamo has become a lightning rod," said Rep. Ellen Tauscher, a Democrat from California.

She was one of 16 members of the House Armed Services Committee who were on a one-day fact-finding trip. A Senate delegation also was to visit the prison Saturday.

Lawmakers from both parties fear that the prison at the U.S. Navy base has become an image problem because of claims that U.S. interrogators abuse and torture inmates.

The chairman of the House committee, Republican Rep. Duncan Hunter, said such criticism amounted to "wild accusations."

Hunter blamed "propagandists" for spreading "rumor and innuendo" to hurt the U.S. He said the congressional visit was meant to show "the facts" about operations at the prison.

On a sweltering morning, lawmakers landed on an airstrip on one side of the base before crossing the water in an admiral's barge to reach the prison's five detainee camps. Commanders then gave them a classified briefing in a room normally used for status hearings for detainees.

A few reporters and photographers accompanied the lawmakers. Military escorts controlled what the journalists could see and hear.

At a briefing for reporters, commanders stressed the "safe and humane custody and control of detainees" and pointed out the differences between their facility and Abu Ghraib in Iraq.

Col. John Hadjis, chief of staff for Joint Task Force Guantanamo, said U.S. troops at Guantanamo were "honorable people doing an honorable mission in an honorable way."

On a tour of one camp occupied by detainees considered "high value" for providing intelligence, journalists did not see any prisoners and watched as troops passed meals through small cells on one block.

The sound of visitors clearly upset the detainees. They shouted non-English words and pounding on closed doors, while journalists entered an interrogation room. It was empty except for a set of handcuffs, a folding chair, a small table and two padded office chairs.

'Well-fed' and 'living in the tropics'
Under mounting criticism about the prison, the White House and Pentagon have defended almost daily the conditions and treatment of detainees.

At a recent news conference, President Bush went so far as to invite journalists to see the prison and see that the allegations were false. Since the prison opened, the Pentagon says about 400 news organizations have toured it. It usually takes a few months to get in because of short staffing and many requests.

Human rights investigators for the United Nations urged the U.S. last week to allow them inside to inspect the facility. They cited "persistent and credible" reports of "serious allegations of torture, cruel, inhuman and degrading treatment of detainees" as well as arbitrary detentions and violations of rights.

In response, Vice President Dick Cheney told CNN that the detainees are well treated, well fed and "living in the tropics." (Full story)

The prison opened in January 2002 to house foreigners believed to be linked to the ousted Taliban in Afghanistan or al Qaeda.

Bush declared the detainees "enemy combatants," affording them fewer rights than prisoners of war under the Geneva Conventions. Some detainees have been held for three years without being charged with any crimes, even though the U.S. Supreme Court has ruled they have some rights.

An FBI report last year cited cases of aggressive interrogation techniques and detainee mistreatment.

Condemnation of Guantanamo intensified this spring after Newsweek magazine published -- and later retracted -- a story that claimed interrogators flushed the Muslim holy book down a toilet.

The Bush administration blamed the report for deadly demonstrations in Afghanistan and protests throughout the Middle East. A Pentagon investigation later disclosed five instances of U.S. guards' mishandling the Quran.

Amnesty International then branded Guantanamo "the gulag of our time," compared it with the Soviet work camps where thousands of people perished, and alleged a pattern of mistreatment similar to that at Abu Ghraib.

White House officials say there are no plans to close the facility because the detainees are too dangerous to release, while the fight against terrorism continues.

About 520 prisoners are held at Guantanamo. Already, $110 million has been spent on construction at the base. The prison costs about $95 million a year to operate.

The Pentagon says that not including Saturday's trip, 11 senators and 77 representatives have toured the prison.




| | |
| --- | --- |
| | |
| Space shuttle Discovery launch delayed | |

| | |
| --- | --- |
| | |
| Blair plans measures to uproot extremism | |

| | |
| --- | --- |
| | |
| Pakistan train crash carnage kills 128 | |
Today's Top News
Top World News

Taiwan's KMT Party to elect new leader Saturday




'No trouble brewing,' beer industry insists




Critics see security threat in Unocal bid




DPRK: Nuke-free peninsula our goal




Workplace death toll set to soar in China




No foreign controlling stakes in steel firms