Putin to visit Japan in November - reports
(Agencies)
Updated: 2005-06-15 09:16
Russian President Vladimir Putin has told a former Japanese prime minister he wants to visit Japan in November for talks on a formal treaty to end a land dispute from World War II, reports said.
The neighbouring countries have been debating a date for the visit for months after Putin agreed to come here this year to mark the 150th anniversary of the establishment of diplomatic relations between them.
Putin told former Japanese prime minister Yoshiro Mori in Saint Petersburg Tuesday that he wanted the visit to be around the Asia-Pacific Economic Cooperation ( APEC) forum summit in South Korea on November 18-19, major Japanese media reported.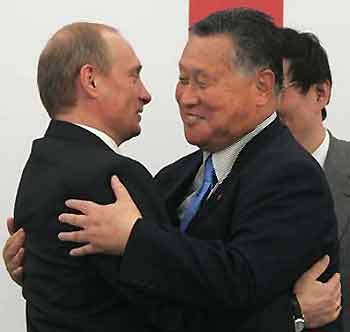 Russian President Vladimir Putin (L) embraces former Japanese Prime Minister Yoshiro Mori in St.Petersburg June 14, 2005. Putin and Mori attended the unveiling of the foundation stone for a new Toyota car factory near St.Petersburg on Tuesday.[Reuters]

"I am looking forward to visiting Japan. I want to visit Japan before or after the APEC in November," Putin told Mori, the reports said.

Mori handed a letter from Japanese Prime Minister Junichiro Koizumi, again inviting Putin to visit Japan.

Putin said he wanted to "seriously discuss" a peace treaty with Koizumi formally ending their World War II hostilities, the reports said. The two nations remain at loggerheads over the southern Kuril islands seized by Moscow at the end of the war.

Putin also told Mori he supported Tokyo's bid to secure a permanent seat in the UN Security Council and Moscow would study a revised draft UN resolution prepared by Japan, Brazil, Germany and India on enlarging the Security Council, Kyodo News said.

Koizumi and Putin met in Moscow last month at ceremonies marking the end of World War II and Foreign Minister Nobutaka Machimura visited Russia in January, but neither trip produced a deal on when the Russian president would come to Tokyo.

He last came to Japan in September 2000, a few months after taking office.

Russia has suggested handing back to Japan two of the four Kuril islands, which Japan calls the Northern Territories and lie just off the northern Japanese island of Hokkaido.

Japan, however, has demanded the return of all four of the islands. Soviet troops evicted Japanese residents on them at the end of the war and brought in Russian settlers.




| | |
| --- | --- |
| | |
| Space shuttle Discovery launch delayed | |

| | |
| --- | --- |
| | |
| Blair plans measures to uproot extremism | |

| | |
| --- | --- |
| | |
| Pakistan train crash carnage kills 128 | |
Today's Top News
Top World News

Taiwan's KMT Party to elect new leader Saturday




'No trouble brewing,' beer industry insists




Critics see security threat in Unocal bid




DPRK: Nuke-free peninsula our goal




Workplace death toll set to soar in China




No foreign controlling stakes in steel firms