Tokyo cops stop Chinese shrine protest
(Xinhua)
Updated: 2005-06-15 08:48
Japanese police prevented a group of Taiwan residents from entering the Yasukuni Shrine in Tokyo yesterday, where they had planned to protest against the enshrinement of their relatives who died while serving in the Imperial Japanese Army during World War II.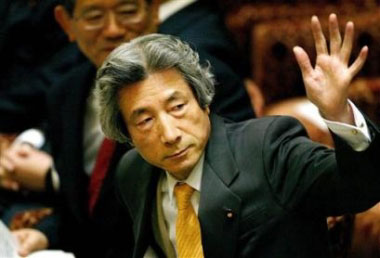 Japan's Prime Minister Junichiro Koizumi raises a hand before he answers oppositions' questions at the Parliamentary committee meeting at the National Diet in Tokyo May 16, 2005. Koizumi, speaking at the meeting, said he saw nothing wrong with his visits to Yasukuni shrine, which honors war dead including convicted war criminals. [AP]


Police said they were trying to protect the group from a possible conflict with ultra-right wing extremists, but the Taiwanese lashed out at the Japanese government for blocking their protest.

More than 50 relatives of Taiwanese aboriginals who were drafted into the Japanese military and died during the war under Tokyo's colonial rule want their relatives' names removed from memorial plaques at Yasukuni because it also honors convicted Japanese war criminals.

The taiwanese, led by Kao Chin Su-mei, arrived near the shrine yesterday morning by bus, but police wouldn't let them near the shrine, saying it was surrounded by 100 Japanese right wingers.

"The police didn't even allow us to get off the buses to walk to the shrine," Kao Chin said.

The ultra-right wing extremists had placed several vehicles in front of the shrine as a roadblock.

"We just wanted to liberate the souls of our ancestors," Kao Chin said. "We expect people in Japan to support our peaceful demand."

"Although we couldn't enter the shrine today, we will come again with 10 times more supporters until the shrine returns our ancestors' spirit tablets and removes their names from the shrine's enshrinement list," Kao Chin said, adding that the group will never give up its demand for justice.

The group also displayed photos showing the Japanese army's atrocities toward Taiwan indigenous people during the war, indicating that the pictures, which were taken by Japanese soldiers, are irrefutable evidence of the inhumane acts they committed.

Kao chin also strongly protested the Japanese government and police forces at a following press conference.

"We always push for peaceful negotiations to realize our demands, but have been repeatedly cheated by the 'democratic and liberal' Japanese government."




| | |
| --- | --- |
| | |
| Demi Moore: conquer aging with baby | |

| | |
| --- | --- |
| | |
| Lin Chih-ling injured in horse fall | |

| | |
| --- | --- |
| | |
| Jolie adopts Ethiopian AIDS orphan | |
Today's Top News
Top Life News

Taiwan's KMT Party to elect new leader Saturday




'No trouble brewing,' beer industry insists




Critics see security threat in Unocal bid




DPRK: Nuke-free peninsula our goal




Workplace death toll set to soar in China




No foreign controlling stakes in steel firms