Many Chinese wed despite Widow Year beliefs
(Agencies)
Updated: 2005-06-13 09:31
Love is blooming among the dim sum shops of Chinatown this year in New York, as it always has, even though traditionalists consider this particular year an inauspicious time to wed.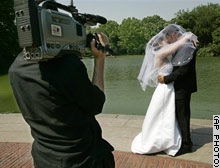 Hong Kong-born Erick Luk and his fiancee Donna Lau are videotaped in New York's Central Park.

A quirk in the Chinese calendar meant that the Year of the Rooster, which began in February, was missing "lichun" -- the day that traditionally marks the beginning of spring.

Folk wisdom holds that such years -- called Widow Years by some -- can be an unlucky time for a couple to begin a new life.

Newspapers in China reported that thousands of couples besieged government offices in January, hoping to get hitched before the old year expired. New York's city clerk's office also had a sharp rise in applications in January.

But the custom has faded fast upon contact with new cultures and, like other young Chinese couples who have settled in America, Susan Zheng and Ming Chen have cast tradition aside and picked a wedding date in August.

"We don't care so much about that," Chen said of the astrological intricacies, although he added that some older members of his fiance's family had expressed some concern.

"If you want to get married, you just get married," Zheng said.

Zheng and Chen, who manage a wedding planning business on New York's Lower East Side, said their predominantly Chinese clients have mostly brushed aside worries about the widow year in favor of more modern considerations, like when they might expect better weather or when relatives can get time off from work.

"They are in America, and American people don't care about this," Chen said.

Still, the old ways persist.

Kim Wang, owner of a video production company that photographs and videotapes weddings, said his business has ebbed for the Year of the Rooster, just as it did in 2002 during the last lunar year without lichun.

"The newer generation, they don't really care for those things. But they have to go with their parents' wishes, and the parents are more traditional," he said.

One of his client couples is planning a traditional wedding banquet for October, but was quietly married in a civil ceremony months ago to avoid the bad luck of being wed during a widow year.

Marcelo M. Suarez-Orozco, director of immigration studies at New York University, said marriage customs often are the first to fall by the wayside among immigrants to the United States.

"Marriage becomes transformed. Marriage rituals, marriage practices, and especially how their children think about marriage, changes drastically," he said. "What you are seeing here is a kind of microscopic version of something we have been seeing in the United States for a hundred years."

Susan Zheng and Ming Chen said they picked August for their own wedding because their business is usually slow that month, for two reasons: Fortune tellers consider it to be an inauspicious month to be married.

"And, it's too hot," Zheng said.




| | |
| --- | --- |
| | |
| Shen Aojun, a moonriver goddess | |

| | |
| --- | --- |
| | |
| Russell Crowe sorry for phone tantrum | |

| | |
| --- | --- |
| | |
| New baby girl coming | |
Today's Top News
Top Life News

Flooding leaves 89 students dead in Heilongjiang




FDI in China dips in first 5 months




Gov't goes provincial in fight against AIDS




Lee: Law brings stable cross-Straits ties




BoCom set to launch US$1.9b IPO in HK




EU: Yuan be pegged to a basket of currencies