Cheney: No plans to shut Guantanamo jail
(Agencies)
Updated: 2005-06-13 08:31
US Vice President Dick Cheney, reacting to a growing chorus of calls to close the U.S. prison at Guantanamo Bay where terrorism suspects are held, says there are no present plans to do so.
"The important thing here to understand is that the people that are at Guantanamo are bad people," he said.
"I mean, these are terrorists for the most part. These are people that were captured in the battlefield of Afghanistan or rounded up as part of the al-Qaida network," he said in an interview to be aired Monday on Fox News Channel's "Hannity & Colmes."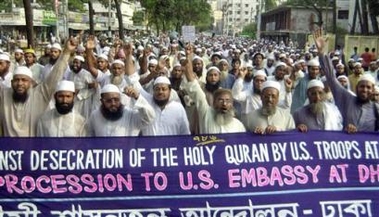 Members of Bangladesh Islami Shasantantra Andalon, or Islamic Constitutional Movement, shout anti-U.S. slogans during a protest in Dhaka, Bangladesh, Saturday, June 11, 2005. Hundreds of Muslims marched towards the U.S. embassy to protest against the alleged desecration of the holy Quran by U.S. soldiers at Guantanamo Bay. [AP]

Human rights activists and some lawmakers ¡ª mostly Democrats ¡ª are pressing for the prison's closure because of allegations of torture and abuse of detainees.

Sen. Mel Martinez of Florida on Friday became the first high-profile Republican to say the administration should consider closing the prison.

"It's become an icon for bad stories and at some point you wonder the cost-benefit ratio," Martinez said. "How much do you get out of having that facility there? Is it serving all the purposes you thought it would serve when initially you began it, or can this be done some other way a little better?"

US President Bush has said his administration is "exploring all alternatives" for detaining the prisoners.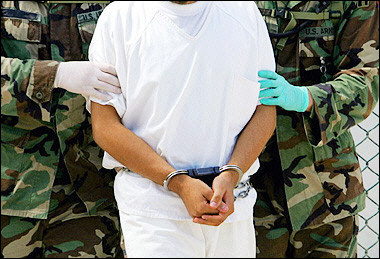 A detainee is escorted by military police at Camp 4 of the maximum security prison Camp Delta at Guantanamo US Naval Base, in Guantanamo, Cuba in 2004. [AFP/file]

"We've already screened the detainees there and released a number, sent them back to their home countries," Cheney said in the interview taped Friday. "But what's left is hard core."

He said Bush and Defense Secretary Donald H. Rumsfeld have "both emphasized the importance that you need to have the capability to imprison detainees that we capture during the course of the war on terror."

"They both emphasized that. At present, there's no plan to close Gitmo. The president says we review all of our options on a continuous basis."

The prison in Cuba holds about 540 detainees. Some have been there more than three years without being charged with any crime. Most were captured on the battlefields of Afghanistan in 2001 and 2002 and were sent to Guantanamo Bay in hope of extracting useful intelligence about the al-Qaida terrorist network.

With the fate of the prison camp a leading topic on the Sunday talk shows, Sen. Chuck Hagel said the U.S. is "losing the image war around the world" and Guantanamo is one reason.

"It's identifiable with, for right or wrong, a part of America that people in the world believe is a power, an empire that pushes people around, we do it our way, we don't live up to our commitments to multilateral institutions," Hagel, R-Neb., told CNN's "Late Edition."

He contended that Pentagon leaders have failed to take responsibility for the situation, including harsh interrogation techniques and treatment of prisoners.

"This is all adding up to a very dangerous drift in this country. ... Not only is it going to end in disaster for us and humility for this country, but we're going to present to the world a very dangerous world if we don't wake up and smell the coffee here," Hagel said.

The Pentagon said in a statement Sunday that it "does not wish to hold detainees longer than necessary and effective processes are in place to regularly review the status of enemy combatants."

The Senate Judiciary Committee plans a hearing Wednesday on the issue of detainees.

"We've actually created a legal black hole there ... I think as long as that exists, we are going to have one more rallying cry against the United States," said Sen. Patrick Leahy of Vermont, the top Democrat on the committee.

"We're the country that tells people that we adhere to the rule of law. We want other countries to adhere to the rule of law. And in Guantanamo, we are not," Leahy told CBS' "Face the Nation."

A second committee Democrat, Sen. Dianne Feinstein of California, said, the U.S. "cannot be hypocritical in our values. We have to practice our values universally. And the question always comes: How many of these people held are really terrorists, and how many of them are just in the wrong place at the wrong time?"

Sen. Lindsey Graham, R-S.C., said closing Guantanamo would be an "overreaction," but did said the administration and Congress need to set uniform standards for interrogations and detention.

"Guantanamo Bay is a useful purpose in the war on terror, but under the current regime, under the current circumstances, it's not effectively working," Graham said.

Still, he said, the U.S. needs a place to interrogate these detainees. "Nobody's going to say move it to Florida, South Carolina, or Vermont, so I think Cuba is as good a place as any," he said.

Time magazine reported Sunday on an 84-page document detailing the Guantanamo interrogation of one detainee, Mohamed al-Qahtani.

He was captured during the war in Afghanistan. It was learned later he had tried to enter the U.S. in Orlando, Fla., in August 2001, but was turned away by an immigration agent at the airport. Mohamed Atta, the Sept. 11 ringleader, was in the airport at the same time, U.S. officials have said.

Military intelligence officials at Guantanamo Bay got permission to use intensive interrogation techniques on two prisoners, including al-Qahtani, who were deemed to be important al-Qaida figures, the commander of U.S. Southern Command has said.

Time said interrogators used such techniques as dripping water on al-Qahtani's head; strip-searching him and making him stand nude; and depriving him of sleep. At one point, after receiving fluid intravenously because he was dehydrated, al-Qahtani was told to urinate in his pants by interrogators who refused his request to use the bathroom so they could continue with their questioning, according to the account.

The Defense Department said in response that the interrogation of al-Qahtani "was guided by a very detailed plan and conducted by trained professionals motivated by a desire to gain actionable intelligence, to include information that might prevent additional attacks on America."

The Pentagon said al-Qahtani provided valuable information on the logistics of the Sept. 11 attacks and the means by which al-Qaida leader Osama bin Laden evaded capture by U.S. forces.

"The Department of Defense remains committed to the unequivocal standard of humane treatment for all detainees," the Pentagon said.




Today's Top News
Top World News

Flooding leaves 89 students dead in Heilongjiang




FDI in China dips in first 5 months




Gov't goes provincial in fight against AIDS




BoCom set to launch US$1.9b IPO in HK




EU: Yuan be pegged to a basket of currencies




Top Korean officials to meet in Pyongyang