Flooding leaves 89 students dead
By Wang Zhenghua, Liang Chao, Li Fangchao (China Daily)
Updated: 2005-06-13 05:49
Flooding caused by torrential rain struck Shalan Township of Ning'an in Northeast China's Heilongjiang Province on Friday afternoon leaving at least 92 people dead, 89 of them students of one school. The death toll is expected to rise as head counting continues.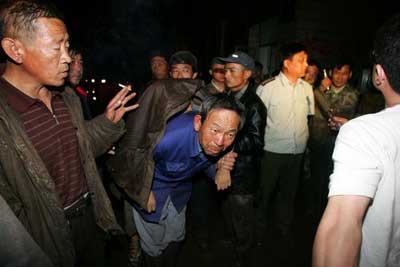 A father of a studnet killed in the flash flood carried his son's body on the back. So far death doll of the torrent has risen to 38, 36 of which are children. There are 15 pupils still missing from the flood-raided school in Norheast China's Hei Longjiang Province, June 10, 2005. [newsphoto]

According to officials from a mortuary in Ning'an, 92 bodies had arrived by yesterday. Thirty more bodies were reported to have been sent to another funeral home 100 kilometres from Shalan Township.

Jia Yibo, father of one of the students killed, broke into Shalan Central Primary School to find 40 bodies floating in waist-deep water. Three children and a teacher were stranded on a window sill.

"My son was placed on a desk, and the desk's surface was only a little higher than the water level," Jia said.

"His nose, ears and mouth were filled with mud and garbage, and when I touched him, I found he was dead," said the devastated Jia.

He said he put his son's body across his shoulders and swam from the school, and only yesterday was his son taken to a funeral home.

By press time yesterday, 15 others remained missing, 13 of them students, the Ministry of Civil Affairs (MCA) said, adding that 25 people (17 students, one child, five villagers, one teacher and one staff member of the school) had been hospitalized.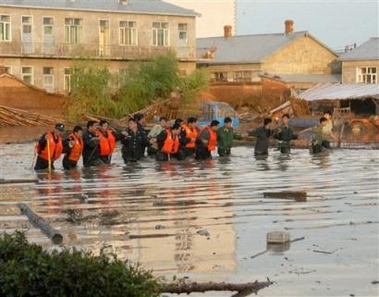 The rescue team search for victims in a primary school hit by a flash flood in Shalan town in Ning'an city, northeast China's Heilongjiang province Friday, June 10, 2005. [Xinhua]

"So far, more than 10,000 people have been evacuated from the worst-hit areas and relief operations are in full swing," Fang Zhiyong, an MCA official, told China Daily.

Eighteen villages in Ning'an were affected by the flooding, three of which were severely hit. About 1,333 hectares of farmland have been devastated, 55 houses have collapsed and the lives of an estimated 1,800 villagers have been affected.

The flooding, triggered by 200 millimetres of torrential rainfall in only 40 minutes upstream of a local river, was the worst in 200 years.

A total of 352 students and 31 teachers at the school in Shalan Township were trapped under 2 metres of water on Friday afternoon as mountain torrents rushed down the local river and swept over the school.

Parents said sudden torrential rain battered Hesheng Village, some 10 kilometres northwest of Shalan, at mid-day on Friday. As a result, the local reservoir overflowed and, two hours later, the flood waters hit the lower-land school.

"The one-storey classrooms are at a lower level and the playground is even lower," said Dai Chunmei, whose 9- and 12-year-old nieces, Kong Lingyu and Kong Lingxue, were killed.

"The flood would not have killed so many children if the school was not located in such an unfortunate position," said Wang Limin, an armed police official from Mudanjiang, two hours and 40 minutes drive from Ning'an.

Wang and his colleagues arrived at the school at about 5:40 pm, three hours after the flood struck.

"The water level was about 3 metres at the highest places, only leaving the roofs above the surface," he said. "I could see some corpses floating on the water."

According to angry parents, the school, built decades ago, has been at risk of such an incident for a long time.

Even worse, parents said the only passage the flood could take to the south of the school was blocked by the teacher's buildings, meaning the school gate to the east was the only path open for the torrent.

According to Zhang Fengyan, a farmer whose son was killed, people from Hesheng Village had issued an urgent flood warning to the local government of Shalan Township before the waters arrived.

But officials did not take the warnings seriously.

"The next day was the Dragon Boat Festival, and leading officials had taken their holiday early," Zhang said.

The local Party and police chiefs of Shalan Township have been placed under investigation for negligence in the rescue operation, local sources said.

The Ministry of Civil Affairs has allocated 3 million yuan (US$361,000) for emergency relief efforts along with 400 tents, 2,700 sets of bedding and clothes and 30,000 kilograms of rice and flour stored locally for such a disaster.

The nation's flood-control authorities were said to have also earmarked 5 million yuan (US$610,000) for local flood relief.

A rescue team of 1,400 people, including 1,000 military personnel and 400 government officials, have arrived in the flood-ravaged town.

Seventeen medical experts from Harbin Medical College in the provincial capital have also been dispatched to the area, local rescue authorities said.

A temporary resident camp has been established to accommodate villagers who lost their homes in the flood and five food stations are now working to provide food for the displaced.

State Councillor Chen Zhili led a task force to the flood-hit area yesterday to direct relief work and offer condolences for the 92 people killed.

Song Fatang, Party secretary of Heilongjiang Province, and Zhang Zuoji, governor of Heilongjiang Province, have both arrived on the scene to help with the relief work.

Rescue teams are clearing the school and searches have been expanded in areas along the flooded rivers.

(China Daily 06/13/2005 page1)




Today's Top News
Top China News

Lee: Law brings stable cross-Straits ties




Flooding leaves 89 students dead




FDI in China dips in first 5 months




Gov't goes provincial in fight against AIDS




BoCom set to launch US$1.9b IPO in HK




Saddam lawyer wants trial in neutral state