G8 agrees to historic debt-relief plan
(Agencies)
Updated: 2005-06-12 09:47
The world's richest countries agreed Saturday on a historic deal to write off more than $40 billion of debt owed by the poorest nations.
The debt relief package backed by finance ministers from the Group of Eight industrialized nations is part of a British-led effort to lift Africa out of poverty.
"We are presenting the most comprehensive statement that finance ministers have ever made on the issues of debt, development, health and poverty," said Britain's Treasury chief Gordon Brown. The agreement represents a "new deal between the rich and poor of the world," he said.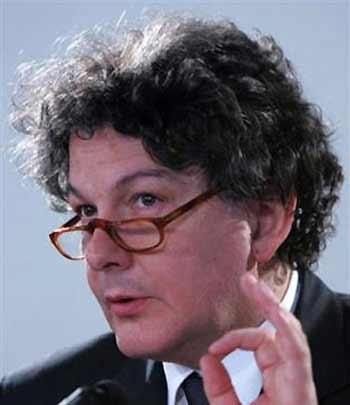 French Finance Minister Thierry Breton speaking at the end of the G8 Finance Ministers Summit in London Saturday June 11, 2005. Finance ministers from the globe's richest countries agreed Saturday on a historic deal to cancel US$40 billion (euro33 billion) worth of debt owed by the world's poorest nations. [AP]

U.S. Treasury Secretary John Snow, who helped hammer out the deal, called it "an achievement of historic proportions."

Officials said 18 countries, many in sub-Saharan Africa, will benefit immediately from the pact to scrap 100 percent of the $40 billion they owe to the World Bank, the International Monetary Fund and the African Development Bank. As many as 20 other countries could be eligible if they meet strict targets for good governance and tackling corruption, which could eventually boost the total debt relief package to more than $55 billion .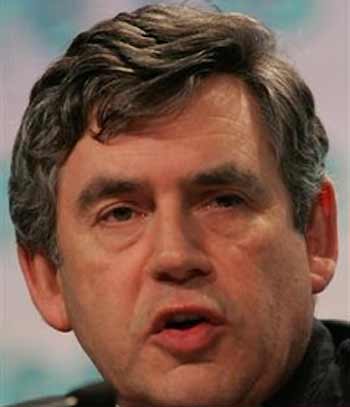 Britain's Chancellor of the Exchequer Gordon Brown speaking at the end of the G8 Finance Ministers Summit in London Saturday June 11, 2005. [AP]

However, Britain, which holds the G8 presidency this year, faces further tough negotiations on another ambitious target of boosting international development aid by $50 billion a year. Britain hopes a second accord will be reached on this aid goal at G8 summit on July 6-8 in Gleneagles, Scotland.

Aid charities welcomed the package, but said at least 62 countries needed full debt cancellation.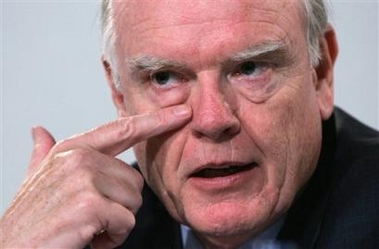 United States Treasury Secretary John Snow speaks at the end of the G8 Finance Ministers Summit in London Saturday June 11, 2005.[AP]

"Tomorrow 280 million Africans will wake up for the first time in their lives without owing you or me a penny from the burden of debt that has crippled them and their countries for so long," said Bob Geldof, the anti-poverty campaigner who organized the Live Aid rock concerts 20 years ago. Those concerts raised millions of dollars for famine victims in sub-Saharan Africa, and Geldof is planning follow-up Live 8 concerts next month aimed at pressuring the G8 summit in Scotland to increase aid to Africa.

"We must be clear that this is the beginning and the end will not be achieved until we have the complete package ... of debt cancellation, doubling of aid, and trade justice," he said.

The debt relief proposal was put forward by Britain and the United States following talks in Washington last week between President Bush and British Prime Minister Tony Blair. It was made possible by a significant concession by the White House when it agreed the debt write off would not jeopardize future aid funding. Previously, Bush had insisted debt relief come out of existing aid packages.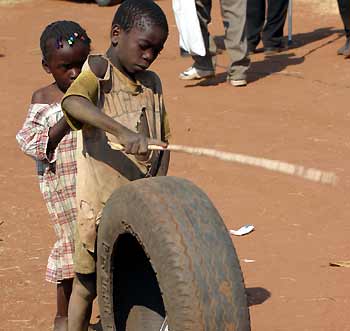 A Zambian boy plays with a used tyre in Livingstone, Zambia, June 11, 2005. The world's wealthiest countries clinched a deal on Saturday to wipe out more than $40 billion of impoverished nations' debts in a drive to free Africa from hunger and disease. [Reuters]

The G8 countries pledged to provide additional funds to compensate the World Bank and African Development Bank in full for the assets written off. They also agreed to meet any shortfall that the IMF could not cover from its own internal resources.

Brown said Britain will pay $700 million to $960 million over the next 10 years to fund the compensation package, while the U.S. will pay $1.3 billion to $1.75 billion. Germany would pay $848 million to $1.2 billion to offset future lost repayments to the World Bank and the African Development Bank.

"We are committed to meeting the full costs to the IMF, World Bank and African Development Bank," said a communique issued at the close of the meetings in London of finance ministers from the United States, Britain, France, Germany, Japan, Russia, Canada and Italy. "We will not jeopardize the ability of these institutions to meet their obligations."

The deal will initially scrap $40 billion owed by 18 nations eligible for debt relief under the Heavily Indebted Poor Countries Initiative, including Benin, Bolivia, Burkina Faso, Ethiopia, Ghana, Guyana and Mali. The initiative was launched by the World Bank and IMF in 1996.

A further nine countries owing $11 billion are expected to complete the program's targets for good governance within 12 to 18 months and would then qualify. To meet the good governance standard, the G8 want recipient nations to cut corruption, tackle fraud, free up their economies and liberalize trade.

Aid agencies say the deal will spare the 18 countries a total of between $1.5 billion to $2 billion a year in debt repayments, which Brown said must be spent on "health, hospitals, nurses, education, schools, teachers and infrastructure."

"We can expand health and education services with this relief," said Daudi Balali, the governor of Tanzania's central bank. "We will also be able to expand our infrastructure."

Britain has made tackling poverty in Africa and the developing world a priority for its G8 presidency. Blair's approach is three-pronged: increasing aid; eliminating debt; and pushing for fair trade.

The G8 ministers said they would strive for a successful conclusion of trade talks launched in 2001 that sought to slash subsidies, tariffs and other barriers to global commerce, and to use trade to help poor nations.




Today's Top News
Top World News

EU, China clinch deal to avert showdown




62 pupils killed in China's school torrent




China to have strategic oil reserve soon




Death toll from Shantou hotel fire rises to 31




G8 agrees to historic debt-relief plan




G-4 may postpone UN reform vote