Bolivian protesters declare truce
(Agencies)
Updated: 2005-06-12 08:27
Bulldozers cleared the last barricades on the main road into La Paz and trucks rolled in Saturday loaded with gasoline and produce, signaling the end of a monthlong blockade that paralyzed Bolivia and brought down its president.
El Alto, a slum city and Aymara Indian stronghold on a mountain plain overlooking La Paz, was the epicenter of a nationwide opposition movement that shut off the key supply route to the capital for gasoline, cooking fuel and crops from the countryside.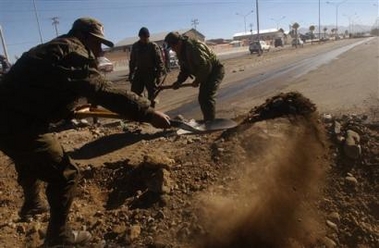 Boivian police officers use shovels to clear a blocked road in El Alto, Bolivia on Saturday, June 11, 2005. [AP]

The protesters were demanding the ruling elite grant more power to a poor majority and back away from free-market policies many blame for their troubles. Their leaders called off the blockades after the new caretaker president, Eduardo Rodriguez, met one of their key demands to call early elections.

Flatbed trucks piled high with potatoes and red onions rolled into El Alto en route to its high altitude sister city of La Paz for the first time in weeks. Desperate crowds formed by the thousands and some pushed and shoved after weeks of stifling fuel shortages.

Indian women in black bowler hats and braids, their unfed babies on their backs, clamored for the first canisters of liquefied cooking gas, scuffling with day laborers who competed for the first fuel after the blockade.

A truck with demonstrators leaves El Alto, Bolivia as trucks containing cooking gas moves towards La Paz, Bolivia on Saturday, June 11, 2005. [AP]

"We want gas! We want gas!" slum dwellers shouted as thousands lined up across El Alto, where cramped tenement homes of adobe blocks rise precariously on a frigid, wind-swept plain overlooking La Paz and snowcapped Andes peaks.

Police escorted more trucks down a cliff road into La Paz past dismantled barricades to fill pumps in the city where cars and taxis lined up by the hundreds.

One radio reporter riding shotgun on the first gasoline truck into La Paz captured the euphoria of the capital's one million residents: "The gasoline is on its way! The gasoline is coming!"

El Alto, the poorest city in the poorest country in South America, fueled the protest fury as die-hard Indian groups barricaded streets beginning last May 16 ¡ª the first of 100-odd blockades that would choke off cities nationwide.

A sprawl of 750,000 people, El Alto was also the last to end the barricades Saturday. But rebellious El Alto inhabitants warned they'll go back up if opposition demands are not addressed.

The demonstrations and blockades that spread across this Andean nation of 8.5 million people were ignited by a coalition of highland Indians centered on this city, then caught on with labor activists, miners, leftist students and coca-leaf farmers elsewhere. The protests doomed President Carlos Mesa, who was replaced Thursday by Rodriguez.

"We are lifting the blockades for now, but this can start again at any time" said Carmela de Nina, 67, who like many struggling Bolivians wants a new government to nationalize the oil industry, arguing gas proceeds must trickle down to the poor.

She said many children in El Alto go hungry and don't get adequate medical treatment for diseases.

"Our life is very sad. We have carpenters and day laborers who can't find work, the children go hungry and sometimes all you eat in a day is a bowl of watery soup ... and look at the politicians who keep all our money and have gardeners and maids."

Paradoxically, gas is what Bolivia has in abundance.

Bolivia's reserves are second only to Venezuela in South America, and an opposition call to nationalize the gas fields resonates deeply in a country where the per capita GDP is $2,600 ¡ª one of the lowest in the Americas.

The country received another dose of financial relief Saturday when the Group of Eight wealthiest nations agreed to cancel $40 billion in debt for 18 of the world's poorest countries, Bolivia among them. The country's foreign debt currently totals $4.85 billion and the Bolivian economist Napoleon Pachecho told the Associated Press on Saturday he expects the G8 deal to wipe out 41 percent of that debt.

With cooking gas scarce, 23-year-old Adelio Ramos had to chop firewood for six families crammed into a small apartment cooking on smoky fires.

"We had some potatoes but not much else and only firewood to boil them," said Ramos, who ran with hundreds, shouting gleefully when trucks arrived.

But what sparked protests here is sorely evident. A man scavenging for food in rotting mounds of trash, graffiti-covered brick homes built helter-skelter to the sky, and jobless men playing basketball on a dusty court are testament to life's daily struggle in El Alto.

On Friday, the firebrand protest leader and former coca leaf farmer Evo Morales declared a "truce." Morales, an anti-U.S. member of Bolivia's Congress and likely leading candidate in early elections, urged his followers to give the new president time.

Rodriguez now must arrange new elections within five months and the winner will serve out Mesa's term until August 2007.




Today's Top News
Top World News

EU, China clinch deal to avert showdown




62 pupils killed in China's school torrent




China to have strategic oil reserve soon




Death toll from Shantou hotel fire rises to 31




'China Peace' sets sail on maiden voyage




G-4 may postpone UN reform vote