CAO suspended chief executive freed on bail
(Agencies)
Updated: 2005-06-11 15:15
The suspended chief executive of debt-ridden jet fuel trader China Aviation Oil (CAO) has been freed from jail after posting a two-million Singapore dollar (1.2 million US) bail, reports said.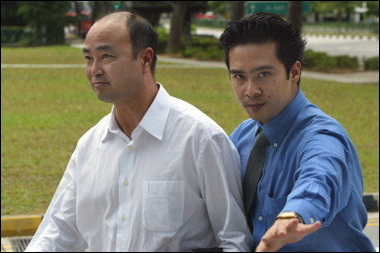 An unidentifed man (R) escorting suspended chief executive of China Aviation Oil, Chen Jiulin (L), prevents photographers from taking photographs as they arrive at police headquarters in Singapore last year. Chen has been freed from jail after posting a two-million Singapore dollar (1.2 million US) bail, reports said. [AFP]


Chen Jiulin, who is at the centre of the city-state's biggest financial scandal in a decade, walked out of the Queenstown Remand Prison late Friday, the Straits Times newspaper and broadcaster Channel NewsAsia said Saturday.

"Yes, he has posted the bail. And yes, he has gone home," the Straits Times quoted Chen's legal representative as saying.

Chen, a Chinese national, is barred from leaving the country and is required to report to the police's white-collar crime agency Commercial Affairs Department every weekday.

He was charged Thursday along with four other CAO officials in connection with irregularities leading to the company's near collapse under a mountain of debt last year. He was placed under remand after he could not raise the bail.

Chen was charged with 15 counts of cheating and forgery while running the Singapore Exchange-listed fuel trader, which lost some 550 million US dollars from speculation at the height of energy price volatility in late 2004.

Among other charges, Chen was accused of conspiring with CAO's Singaporean finance head Peter Lim to cheat Deutsche Bank of more than 111 million dollars, and of forging the signature of CAO chairman Jia Changbin.

Chen, 43, was also charged with deliberately omitting from CAO's financial statements the fact the firm had racked up losses in derivatives trading, and with hiding the truth from the board of directors.

Chen's fellow Chinese nationals -- chairman Jia, director Li Yongji and director Gu Yanfei -- were also charged with cheating but managed to post bail.

CAO, a former stock market darling which sourced jet fuel for China's booming aviation industry, shocked the investment community when it announced its losses in November.

It was Singapore's biggest business scandal since the collapse of British merchant bank Barings in 1995 after young trader Nick Leeson tried to hide over one billion US dollars in losses from financial derivatives trading.

But unlike Barings, CAO received a lifeline after creditors voted Wednesday in favour of a restructuring plan.




Today's Top News
Top China News

EU, China clinch deal to avert showdown




China to have strategic oil reserve soon




Death toll from Shantou hotel fire rises to 30




'China Peace' sets sail on maiden voyage




China strives to bring UN reforms 'on track'




Bush, Roh brush off gaps, stress unity on NK