Death toll from China school torrent rises to 64
(Agencies)
Updated: 2005-06-11 14:33
Sixty-four people, including 62 students and two villagers, were confirmed dead amidst a heavy flood in Ning'an City, northeast China's Heilongjiang Province.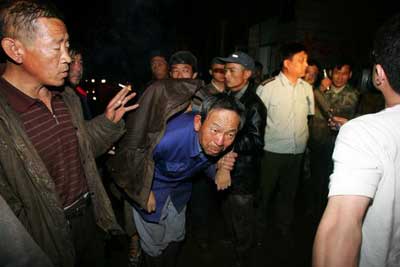 A father of a studnet killed in the flash flood carried his son's body on the back. So far death doll of the torrent has risen to 38, 36 of which are children. There are 15 pupils still missing from the flood-raided school in Norheast China's Hei Longjiang Province, June 10, 2005. [newsphoto]


Local rescue work headquarters announced the latest figure Saturday afternoon.

The heavy flood and ensuing mountain torrent hit a primary school around 2:00 p.m. Friday in Shalan Town of Ning'an City.

Another 17 students, a teacher, and six villagers were receiving emergency medical treatment, the headquarters said.

Floods wreaked havoc over seven out of 18 village in Ning'an City. About 1,333 hectares of farm land were devastated, 55 houses collapsed and 1,800 villagers' life affected.

A rescue team of 1,400 people, including 1,000 military officers and soldiers and 400 government officials, have arrived in the flood-hit area.

Seventeen medical experts from Harbin Medical School in the provincial capital have been dispatched to help the disaster relief efforts, the rescue headquarters said.

Medical staffers concentrated their efforts on preventing possible contagious diseases and providing disinfected services toevery rural household. A temporary residential quarter has been established to accommodate homeless local people.

Provincial Governor Zhang Zuoji and other high-ranking officials with the provincial government have arrived at Shahe Town to guide rescue work, the headquarters added.






Today's Top News
Top China News

EU, China clinch deal to avert showdown




China to have strategic oil reserve soon




Death toll from Shantou hotel fire rises to 30




'China Peace' sets sail on maiden voyage




China strives to bring UN reforms 'on track'




G-4 may postpone UN reform vote