Nation collect 'intangible' culture heritages
By Wang Zhenghua (China Daily)
Updated: 2005-06-10 22:56
Provincial culture departments are being asked to submit nominations for culture forms which should be preserved as the nation's intangible cultural heritage.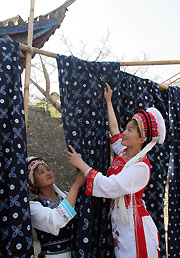 Girls of the Bai minority group display their traditional dyeing craftwork in Dali, Southwest China's Yunnan Province, April 15, 2005. [newsphoto/file]

Defined by the United Nations Educational, Scientific and Cultural Organization (UNESCO) as "the practices, representations, expressions, as well as the knowledge and skills, that communities...recognize as part of their cultural heritage," intangible cultural heritage is particularly susceptible to being lost.

Speaking on Friday in Beijing, Vice-Minister of Culture Zhou Heping urged lower-level culture departments to finish selecting forms of culture to be added to a national list to receive protection and funding.

"To date, the Chinese Government has earmarked 46 million yuan (US$5.6 million) on a special project designed to preserve important cultural forms," Zhou said on Friday, addressing a working conference for intangible cultural heritage protection.

"But we are still evaluating which cultural forms are most in need of funds for preservation."

Zhou urged provincial culture departments to submit their selection results before mid-September.

Currently, China has two art forms, Kunqu and Guqin, on the UNESCO's intangible cultural heritage.

Chen-style shadow boxing is ready to apply for UNESCO recognition.

UNESCO adds new arts to the list every two years, with each country permitted only one nomination.At the same time as compiling possible UNESCO nominations, the government is taking the opportunity to create its own national listing.

Earlier this year, the ministry decided to conduct a nationwide survey for an authoritative database on the kind, number and distribution of intangible forms of heritage in the country.

At the conference, Zhou also called for local culture departments to cultivate professional personnel to undertake intangible cultural heritage preservation.

Workers in the field exchanged their ideas and experiences at the two-day conference, which drew more than 130 representatives from provincial culture departments.

Yang Jianxin, culture department director of East China's Zhejiang Province, said the provincial government has allocated 20 million yuan (US$2.4 million) since 2002 to preserving folk art and cultivating talented performers.

"A survey has been conducted to track art forms in the province," Yang said.

In Northwest China's Gansu Province, where part of the Silk Road is located, the protection of intangible cultural heritage has drawn attention from local authorities, said Wang Lanling, an official from culture department of the provincial government.

She also said a survey of cultural forms is under way but funds are lacking.

Phuntsok Namgyal, an official with the culture department of Southwest China's Tibet Autonomous Region, said that unlike other provinces and autonomous regions, the structure to protect intangible Tibetan culture is not yet in place.

He said his department will gather experts together after the conference to begin the process.




Today's Top News
Top China News

EU, China clinch deal to avert showdown




China to have strategic oil reserve soon




Death toll from Shantou hotel fire rises to 30




'China Peace' sets sail on maiden voyage




China strives to bring UN reforms 'on track'




Bush, Roh brush off gaps, stress unity on NK