China flood hits school, killing 29
(Agencies)
Updated: 2005-06-10 21:55
BEIJING - A torrent of water rushed down a mountain in northeast China on Friday and hit a primary school, killing 29 people, most of them students, and leaving another four people missing, the government said.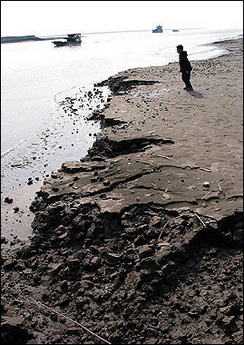 A Chinese boy plays by the eroding banks of a river in China, February 2005. At least 29 people, mostly children, were killed when a flash flood struck a primary school in northeastern China, official media said. [AFP]


Twenty-seven of the victims in Shalan, a town in Heilongjiang province, were students, while the other two were villagers, the official Xinhua News Agency said.

Rescuers were searching for another four people, including two students, it said.

Some 352 pupils between the ages of 6 and 14 were at the Chang'an Primary School with 31 teachers when the flood of water poured into the town, which lies in a basin, Xinhua said.

Shalan is in a remote area 280 miles from the capital of Harbin, it said.





Today's Top News
Top China News

Talks with EU avert textile trade war




China flood hits school, killing 29




China to have strategic oil reserve soon




Nation collect 'intangible' culture heritages




'China Peace' sets sail on maiden voyage




Dumpling still yummy, festival losing luster