Poll: Bush job approval dips to new low
(Agencies)
Updated: 2005-06-10 15:21
As the war in Iraq drags on, US President Bush's job approval and the public's confidence in the direction he's taking the nation are at their lowest levels since The Associated Press-Ipsos poll began in December 2003.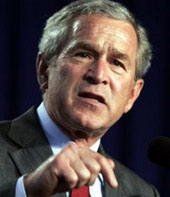 President Bush speaks about the Patriot Act at the Ohio State Highway Patrol Academy in Columbus, Ohio, Thursday, June 9, 2005. [AP]
About one-third of adults, 35 percent, said they think the country is headed in the right direction, while 43 percent said they approve of the job being done by Bush. Just 41 percent say they support his handling of the war, also a low-water mark.
"There's a bad mood in the country, people are out of sorts," said presidential scholar and senior fellow at the Brookings Institution Charles Jones, who lives near Charlottesville, Va. "Iraq news is daily bad news. The election in Iraq helped some, and the formation of the government helped some, but dead bodies trump the more positive news."
California retiree Carol Harvie was quick to mention Iraq when asked about how Bush was doing his job.
"I don't think he's read his history enough about different countries and foreign affairs," said Harvie, a political independent who lives near San Diego, a region with several military bases. "Anything they try to do in Iraq has spelled trouble. I think he bit off more than he can chew."
Car bombings and attacks by insurgents killed 80 U.S. troops and more than 700 Iraqis last month and Pentagon officials acknowledge the level of violence is about the same as a year ago, when they were forced to scrap a plan to substantially reduce the U.S. troop presence in Iraq.
Bush administration officials say the key to getting U.S. forces out of Iraq is training Iraqis to provide their own security.
While Bush has gotten generally low scores for his handling of domestic issues for many months, most Americans have been supportive of his foreign policy. Not any more.
The poll conducted for AP by Ipsos found 45 percent support Bush's foreign policy, down from 52 percent in March.
Bush's popularity reached its zenith shortly after the terror attacks on Sept. 11, 2001, when various polls found nearly 90 percent approved of the job he was doing. It was close to 80 percent when Ipsos started tracking attitudes about Bush at the start of 2002, and was just over 50 percent when the AP-Ipsos poll was started in December 2003.
But since winning re-election last November, Bush has seen his poll numbers sag.
Bush, who faces no more elections, has responded to past dips in the polls by saying, "You can find them going up and you can find them going down."
David Fultz, a Republican from Venice, Fla., is among those who are sticking with the president.
"In terms of where we're going in the future, President Bush is laying out a plan," said Fultz, an assistant principal at a middle school. "When it's all said and done, we'll be where we want to be. We need to help establish democracy in the Middle East."
Support for Bush's handling of domestic issues remained in the high 30s and low 40s in the latest AP-Ipsos poll.
Thirty-seven percent support Bush's handling of Social Security, while 59 percent disapprove. Those numbers haven't budged after more than four months of the president traveling the country to sell his plan to create private accounts in Social Security.
Support for his handling of the economy was at 43 percent.
Congress gets even lower grades than Bush, a potentially troubling development for those seeking re-election next year.
Only about three in 10 polled said they approve of the job being done by Congress, while 64 percent disapprove.
"Presidents who are low in the polls have a hard time getting Congress to go along with them," said Charles Franklin, a political scientist at the University of Wisconsin-Madison. "He has to persuade the people in Congress to follow his legislative agenda and they're all worried about 2006."
The AP-Ipsos poll of 1,001 adults was taken June 6-8 and has a margin of sampling error of plus or minus 3 percentage points.
Today's Top News
Top World News

China rejects peppered-over UNSC reform plan




Kissinger: Conflict with China not an option




East Asia history book sets facts right




China plans no big military expansion




EU threatens to react if no China textile deal




Housing industry cools off - Ministry report