China protests to Japan over expulsion of Taiwan boats
(Agencies)
Updated: 2005-06-10 15:07
Japan's expulsion of Taiwanese fishing boats from waters near Diaoyu Islands in the East China Sea violates China's sovereignty, the Chinese Foreign Ministry said late Thursday after lodging a complaint with the Japanese government.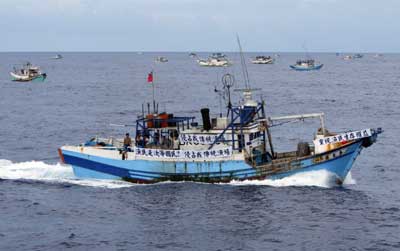 A Taiwan fishing boat sails to join a protest in the East China Sea June 9, 2005. About 50 fishing boats from Taiwan sailed north on Thursday to challenge Japan's patrol boats and once had standoff with the Japanese vessels in waters near Diaoyu Islands in the East China Sea. [Reuters]

"For Japan to forcibly expel Taiwanese fishermen doing common work in that ocean area is a violation of China's rights and sovereignty," Foreign Ministry spokesman Liu Jianchao said in a statement. "We ask that the Japanese side pay great attention to the Chinese side's concerns and practically, prudently handle the related problems."

A Japanese Embassy spokesman said Friday the Chinese ministry lodged a protest with the embassy in Beijing via "normal diplomatic channels" Thursday. The Japanese side listened to China's views but did not give a formal reply, the spokesman said.

On Wednesday, about 50 Taiwanese fishing boats were chased off by Japanese patrol boats and were unable to operate in the waters. There was a brief standoff.

Diaoyu Islands have been Chinese territory since ancient times, and this is a undisputable fact, Liu said.

Nearby waters are rich in fisheries and are considered strategically important.

Taiwan's "foreign ministry" urged Japan on Thursday to respect Taiwanese fishermen's rights to operate in waters near the islands.

Over the past decade, Taiwanese fishing boats operating in the waters have often been expelled or captured and fined by Japanese maritime authorities.





Today's Top News
Top China News

China rejects peppered-over UNSC reform plan




Kissinger: Conflict with China not an option




East Asia history book sets facts right




China plans no big military expansion




EU threatens to react if no China textile deal




Housing industry cools off - Ministry report