Harry Potter fan wakes up to a mystery caller
(Agencies)
Updated: 2005-06-10 13:28
AN AMERICAN fan of the Harry Potter books was recently awoken by a telephone call from J. K. Rowling inviting him to be one of the few people to interview her about her new book.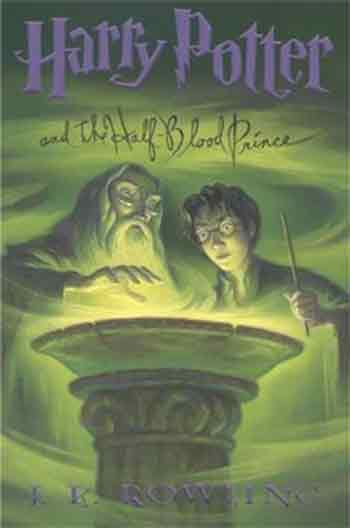 This photo supplied by Scholastic publishers shows the dust jacket cover of 'Harry Potter and the Half-Blood Prince' by J.K. Rowling. One lucky American library is going to be able to cast a spell on its readers by displaying the first American edition of 'Harry Potter and the Half-Blood Prince' signed by J.K. Rowling herself _ it's the top prize in a sweepstakes from Scholastic, the American publisher of the series about the boy wizard.[AP]


Emerson Spartz, an 18-year-old student from Indiana, was asleep at 9am when his telephone rang.

A Scottish voice asked "Hello, Emerson? This is Jo. You believe me, don't you?" Rowling, who has become increasingly reclusive, handpicked Mr Spartz and Melissa Anelli, a 24-year-old reporter from a local New York City newspaper, to be the only people to interview her individually for the publication of Harry Potter and the Half-Blood Prince, because of her admiration for their fan websites.

Mr Spartz runs Mugglenet, a website named after Rowling's term for non-magical people, and Ms Anelli is the editorial director of The Leaky Cauldron, another highly-regarded source of Harry Potter gossip.

Rowling has refused to grant interviews to British journalists for two years. Her only contact with the media on the release of the new book will be through "cub reporters" under 16, who will be selected for a "press conference" through competitions, including one in The Times.

Mr Emerson said that he was stunned to hear his heroine's voice. "At first, I thought it was extremely odd," he said. "I thought 'Why would she want to talk to me'?" Rowling explained that she was grateful for all the support that she had received from his website over the years. Mugglenet, which is run by more than 40 volunteers, features downloads, trivia, pictures and links to other Harry Potter sites. It also has a clock that counts down the days, hours, minutes and seconds until the midnight release date of the sixth and penultimate book in the series.

Ms Anelli, who says that she will finish the book within the 15 hours she has between its publication and her interview, is using her website to invite fans to submit their own questions.

Unlike Mr Spartz, she was warned that she would receive a call, but did not think it would be the author herself. "When the phone rang at 8am, I must have said 'Oh my god' 48 times'," she said.

The Times will publish details of its competition to select a cub reporter to meet Ms Rowling shortly. The selected candidate will attend a reading of the new book by the author at Edinburgh Castle on July 16. They will each receive a signed copy and have the chance to read it before a press conference on July 17.




| | |
| --- | --- |
| | |
| Shen Aojun, a moonriver goddess | |

| | |
| --- | --- |
| | |
| Russell Crowe sorry for phone tantrum | |

| | |
| --- | --- |
| | |
| New baby girl coming | |
Today's Top News
Top Life News

China rejects peppered-over UNSC reform plan




Kissinger: Conflict with China not an option




East Asia history book sets facts right




China plans no big military expansion




Housing industry cools off - Ministry report




EU, China talk to settle textile row