Market sees biggest single day rise in 3 years
By Chen Hua (China Daily)
Updated: 2005-06-09 00:25
China's shares yesterday achieved their highest daily increase in three years, buoyed up by positive news and a wave of investor confidence.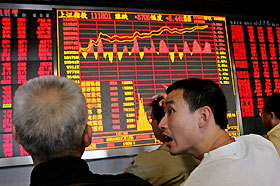 A young investor (right) in Shanghai reacts to a sharp rise in the benchmark Shanghai Composite Index yesterday. Shares jumped more than 8 per cent yesterday in both Shanghai and Shenzhen, the biggest single-day rise in three years. [newsphoto]

Lately in the doldrums, Shanghai's Composite Index climbed 8.21 per cent to close at 1115.582, up 84.64 points from its previous close of 1030.94.

Turnover at both Shanghai and Shenzhen bourses was nearly three times more than their daily average. About 200 stocks jumped 10 per cent, the daily increase limit, and not a single stock at the two bourses suffered a fall.

"The market could not be much better", said Jiang Wen, a stock trader in Beijing.

According to market sources, the central bank will reloan millions of money to pilot brokers to tide over the market difficulty. The bank, however, has yet to confirm the story.

At present about 12 securities companies meet the standard needed to become a pilot firm allowed to experiment with product innovation and gain support for future development.

In addition, China Securities Regulatory Commission (CSRC) issued a draft circular on Tuesday allowing listed firms to buy back their shares from traders. The draft is being publicized to gauge market reaction.

"If this move were carried out, there would be more capital injected into the market, which would bring up prices," said Xue Jirui, an analyst from CITIC Securities.

"The repurchase could allow the market to revaluate many shares," he said.

Recently officials from the CSRC have made several announcements to show the regulator's strong commitment to solving market problems.

This cheered up traders somewhat, Xue said.

Shares broke the 1,000 sentiment baseline on Monday, which offered many investors a chance to pick up blue chip bargains and gain profit margins, said Jiang Yiming, a Beijing investor.




Today's Top News
Top China News

Death toll of Hunan flood hits 96; US$9.6 billion granted




33 miners killed in three blasts




Bush: US opposed to Taiwan 'independence'




Market sees biggest single day rise in 3 years




National confirmed dead in Gaza attack




China aviation fuel CEO may face charges