US to drop campaign against ElBaradei
(Agencies)
Updated: 2005-06-08 18:44
VIENNA - The Bush administration is prepared to drop its solitary campaign against Mohamed ElBaradei, who is flying to Washington to try to win support for a third term as head of the U.N. nuclear watchdog agency, U.S. and European officials said.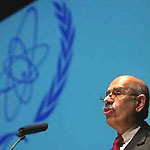 In this file photo ElBaradei is pictured as he gives an address at an International Conference on Security and Nuclear Terrorism in London, March 16, 2005. [Reuters]

U.S. and European officials told Reuters that Secretary of State Condoleezza Rice will offer support for ElBaradei's candidacy as director-general of the Vienna-based International Atomic Energy Agency (IAEA).

"The U.S. will support ElBaradei but it wants some things in return," a European diplomat told Reuters, adding these issues involved Iran and the general fight against nuclear arms proliferation. The diplomat did not elaborate.

No immediate comment was available from the State Department.

ElBaradei has headed the IAEA since 1997. He fell out with the Americans over what they saw as soft-pedalling on the atomic programs of Iraq and Iran.

ElBaradei was due to arrive in Washington late on Wednesday. He was scheduled to meet Rice and Undersecretary of State for Arms Control Robert Joseph on Thursday, diplomats said.

Joseph is the successor to John Bolton, the U.S. administration's nominee for ambassador to the United Nations and ElBaradei's most vocal U.S. critic.

The IAEA's 35-nation board of governors begins its quarterly meeting Monday. One of the main items on the agenda is the issue of a third term for ElBaradei, which Washington opposed, arguing that heads of U.N. agencies should not serve more than two terms.

U.N. diplomats say the real reasons were ElBaradei's refusal to accept U.S. allegations that prewar Iraq had revived its nuclear weapons program and his opposition to U.S. demands that the IAEA board report Iran to the U.N. Security Council for hiding sensitive nuclear activities from the agency.

In April, the board's Canadian chairwoman, Ingrid Hall, told board members the United States was the only country opposing ElBaradei. Since the agency tries to reach all decisions by consensus, the vote was delayed.

IRAN INSPECTIONS

Several Western diplomats said ElBaradei was trying to win favor. For example, ElBaradei informed Iran that the IAEA board would receive a report on progress in the agency's two-year probe of Iran's nuclear program next week, diplomats said.

"Iran will not be happy about this report, but the U.S. will," a diplomat said.

ElBaradei had originally planned to make only a few remarks about Iran to avoid putting too much pressure on it ahead of its June 17 presidential election, he said.

The IAEA has been investigating Iran's nuclear program for over two years but has found no hard proof that Tehran is developing nuclear weapons as Washington insists.

However, it has found many activities that are potentially weapons-related, which Iran concealed from the United Nations for nearly two decades. Iran says its nuclear program is for electricity generation, but ElBaradei has said the "jury is still out" on whether Iran has a bomb program.

ElBaradei is also backing a U.S. proposal to set up an IAEA committee to deal with countries such as Iran, North Korea and Libya that violated their safeguards obligations under the nuclear Non-Proliferation Treaty.

Originally, ElBaradei opposed the plan but, after months of U.S. revisions to satisfy the IAEA's objections, the 62-year-old Egyptian lawyer decided to back the idea, diplomats said.

"This is a very important proposal for the United States, and ElBaradei is making it clear to the members of the board that he supports it," a diplomat said.





Today's Top News
Top World News

Tokyo Tribunal's verdict on war crimes undisputable




FM refutes Rumsfeld's claim on China military




Paper clarifies China position on UN reforms




Bankers reject US bid on China currency




China aviation fuel CEO may face charges




Sino-US programme targets HIV/AIDS