Triumph over tragedy
(Agencies)
Updated: 2005-06-06 10:09
Justine Henin-Hardenne believes her catalogue of personal and professional setbacks will spur her onto more Grand Slam success after she comfortably secured a second French Open title here on Saturday.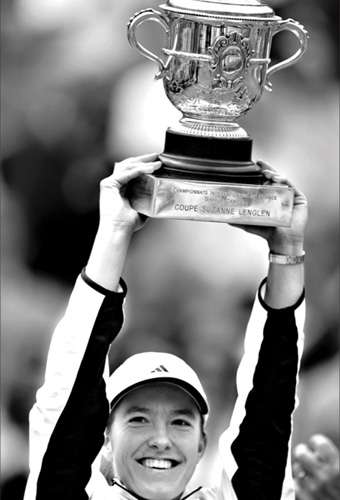 Belgium's Justine Henin-Hardenne holds the winner's cup after winning her women's final match against France's Mary Pierce in the French Open tennis tournament at the Roland Garros stadium in Paris on Saturday. A super-charged Henin-Hardenne crushed Pierce 6-1 6-1 to win the French Open crown for the second time. [Reuters]


The 23-year-old Belgian brushed aside the feeble challenge of French veteran Mary Pierce 6-1, 6-1 to add the 2005 Roland Garros crown to her 2003 triumph here as well as her wins in the 2003 US Open and 2004 Australian Open.

But she insists her charge through the tournament this year, as well as a career which has brought 23 titles, an Olympic gold medal and nine million dollars in prize money, can be easily explained.

"I play tennis because I love it so much. It's my passion. My parents helped me a lot in the beginning, but after that I had some pretty hard times and I think all of that made me stronger," said Henin-Hardenne.

The Belgian was just 12 when she lost her mother Francoise to cancer while a painful split with her father Jose also sent her private life into a slump.

Last year she fell victim to an energy-sapping virus and then suffered a fractured knee in January.

Those twin troubles kept her off the tour for nine months, but she returned in impressive style winning claycourt titles in Charleston, Warsaw and Berlin before crowning her comeback with her one-sided triumph on Saturday.

"I have no idea if the problems are part of my success, but I wouldn't be the same person with the same personality if I hadn't had lost my mum pretty early," she said.

"So it's sad in a way but that made me stronger, unfortunately.

"I think I am enjoying my tennis more now than before my illness. I enjoy every moment I'm on the court. Every ball I hit, it's with my heart."

Henin-Hardenne had to find that heart in her fourth round match here against Russia's US Open winner Svetlana Kuznetsova where she had to save two match points to keep her campaign on track.

She described her recovery as a 'miracle'. The trials of the last year have also taught her to cut back on what used to be a gruelling schedule; she will not play the Wimbledon warm-up event at Eastbourne from June 13 in order to launch a fresh title bid at the All England Club where she was runner-up in 2001.

She intends to rest for ten days, keen not to fall back into the trap of playing and training too much.

"Everyone knows what happened with the hard work I did in the past, never stopped. I kept working all the time.

"They have told me it could take a few months from now to be 100 per cent. Probably by the end of the year, I would be at my best again."




| | |
| --- | --- |
| | |
| Heat VS Pistons | |

| | |
| --- | --- |
| | |
| David Beckham contributes to youth soccer | |

| | |
| --- | --- |
| | |
| Brizil thrash Paraguay 4-1 | |
Today's Top News
Top Sports News

China's stock markets slumping to 8-year lows




Beijing Olympic volunteers get call-up




Chemical weapons disposal complex planned




China-US talks fail to resolve disputes




Iraq says Saddam will face just 12 charges




Disease threatens as more floods loom large