EU faces likely blow from the Dutch
(Agencies)
Updated: 2005-06-01 23:24
The European Union hung in the balance yesterday with Dutch voters likely to deal a possibly fatal blow to its constitution, raising serious questions about what the bloc will do next.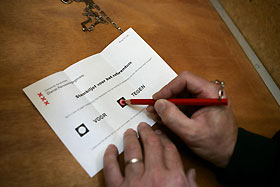 A Dutch resident casts a "NO" vote in a referendum on the European Union constitution in a polling station located in the "Duif" Church ( Pigeon Church ) in Amsterdam June 1, 2005. [Reuters]

A "no" vote in the Netherlands, following on the heels of France's emphatic rejection of the constitutional treaty on Sunday, may undo in half a week a text that was drawn up and debated by 300 legislators and experts over a year.

Since the French referendum, and indeed just before it, officials in Brussels have been muted--fearful that a wrong word might upset the voters. But opinions are likely to flow more freely once the Dutch polls close.

The European Parliament's Constitutional Affairs Committee has already called an extraordinary meeting for early tomorrow and has invited deputies from the 25 member states' national assemblies.

"Whatever the outcome of the Dutch poll, I urge governments not to rush into pronouncing the constitution dead," said Martin Schulz, head of the parliament's Socialist group.

"It might suit domestic political needs in one or more countries to avoid having a vote. But government leaders who are tempted to go down that path will be tearing up the document that they all signed in Rome last October," he said in a statement.

Whatever the result, the most likely scenario is that a "period of reflection" will follow, with the silence being broken when EU leaders meet for what in other circumstances would have been a routine summit on June 16-17.

The leaders have so far insisted that the ratification process will go ahead, giving all members the chance to have their say on the text, which aims at facilitating decision-making in the expanded Union.

Reports in the British press suggested that Prime Minister Tony Blair might call off plans for a referendum after the Dutch vote, although he would probably wait to discuss it with his colleagues at the summit before doing so.

Blair, who takes over the EU's rotating presidency on July 1, has so far been at pains to keep open the possibility of a British referendum, which had been expected to take place in the first half of next year.




Today's Top News
Top World News

China may use foreign exchange reserves to buy oil




China: UN Council resolution dangerous




Taipei urged to talk on mainland gifts




EU faces likely blow from the Dutch




Putin signs law on China border agreement




Bush: US sees China as economic opportunity