Taipei urged to talk on mainland gifts
By Xing Zhigang (China Daily)
Updated: 2005-06-01 23:24
Beijing yesterday renewed its charm offensive towards Taiwan, urging immediate non-government talks across the Straits to pave the way for goodwill gifts to reach the island.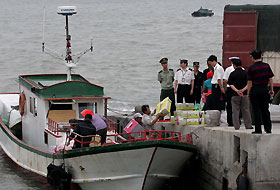 Fruits from Taiwan are offloaded at a port in Xiaman, East China's Fujian Province May 30, 2005. [newsphoto]

The gifts include scrapping import tariffs on dozens of Taiwan-grown fruits and giving the island a pair of giant pandas as a symbol of peace, unity and friendship.

The offer was first made by Chen Yunlin, minister of the Taiwan Affairs Office of the State Council, on May 3 at the end of a historic visit to the mainland by Taiwan opposition Kuomintang Chairman Lien Chan.

The Taiwan authorities, however, have cold-shouldered the mainland move, calling it a "united front" strategy aimed at wooing Taiwanese people, especially fruit-growing farmers in southern Taiwan.

Six mainland officials from related government departments elaborated on Beijing's preparations for delivering the gifts yesterday at a regular press conference held by the Taiwan Affairs Office.

Tang Wei, deputy director of the Taiwan, Hong Kong and Macao Affairs Department under the Commerce Ministry, said 15 kinds of Taiwan fruit will be granted zero-tariff treatment.

They are pineapples, lychees, papayas, starfruit, mangos, guavas, wax apples, betel nuts, pomelos, jujubes, coconuts, loquats, plums, peaches and persimmons. The mainland had already increased the import of Taiwan-grown fruit from 12 to 18 kinds.

Officials from the State Administration of Customs and the State Administration of Quality Supervision, Inspection and Quarantine also pledged yesterday to make the imports of Taiwan fruit simple in customs clearance, product inspection and quarantine.

Tang Yi, deputy director of the Economic Bureau of the Taiwan Affairs Office, urged technical talks on fruit imports to benefit Taiwanese farmers at an early date.

"We hope relevant Taiwan administrations put the interests of Taiwanese farmers first and allow representative agricultural organizations to visit the mainland and hold talks on technical matters as soon as possible," he said.

"Zero tariff measures can be carried out when a consensus is reached by non-government organizations from both sides."

Tang Yi suggested the talks on fruit imports should model negotiations for non-stop cross-Straits charter flights during the Spring Festival period in February.

In these talks, the officials of relevant departments from both sides participated in negotiations in a non-government capacity.

Selection of pandas

Cao Qingyao, spokesman of the State Forestry Administration, said the mainland has already started the selection process for a pair of giants pandas to offer to Taiwan.

The government is looking for pandas aged between 18 months and four years old in the Wolong Giant Panda Research Centre in Sichuan Province, he said.

He said he hoped the island would start talks as soon as possible with the China Wildlife Conservation Association, which will be responsible for the matter.

The mainland welcomes Taiwanese technicians to come and learn giant panda breeding and reproduction technology. It is also willing to send experts to Taiwan for technical help if necessary, he added.

He said the mainland's offer of giant pandas to Taiwan is an internal affair for compatriots across the Straits and does not therefore fall under the jurisdiction of the Convention on International Trade in Endangered Species.

As an endangered species, giant pandas are among the world's oldest and rarest mammals and have been put under the first level of national protection in China. A latest Chinese forestry survey says there are about 1,590 wild giant pandas and another 160 are kept in zoos around the world.




Today's Top News
Top China News

China, India and Russia join forces to boost security




Government reveals plan to combat AIDS




22 die in Hunan mountain torrents




GM to build $387m engine plant in China




Badawi raps US-Japan view of China as threat




Dutch voters reject EU constitution