Mainland to select giant pandas for Taiwan
(Xinhua)
Updated: 2005-06-01 11:45
Preparations for choosing two giant pandas as gifts of the Chinese mainland to Taiwan are underway in the world-known giant panda research center in southwestern Sichuan Province, a government spokesman said here Wednesday.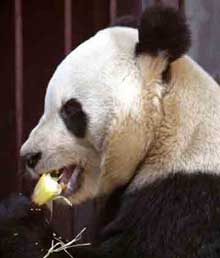 A panda bites on a bamboo inside a breeding centre at Beijing Zoo in Beijing March 28, 2005. [Reuters/file]

"We will select a giant panda couple aged between one and a half years to four years that are artificially bred in the center and with sound fertility," said spokesman Cao Qingyao of the State Forestry Administration.

Once the giant pandas are selected, "we will solicit names for them, their infant names from the mainland people and their formal names from the Taiwan people," Cao told a press conference held by the Taiwan Affairs Office of the State Council.

On the mainland side, the China Wildlife Conservation Association will be responsible for talks with related authoritiesin Taiwan.

"We hope the two sides will start talks as soon as possible," he said.

The mainland welcomes Taiwan technicians to come to learn giant panda breeding and reproduction technologies and could also send experts to Taiwan for technical service if it is necessary, he added.

The spokesman also expressed the belief that with the climate in Taiwan similar to that in the southern mainland, there are enough bamboo to meet the needs of the giant pandas.

"Under the good care of the Taiwanese compatriots, the giant pandas will surely grow well and have their descendants," Cao said.

Beijing urges for early talks with Taiwan on agro trade

A mainland official Wednesday urged Taiwan authorities to allow trade organizations tocome for discussions about the technical details over the sale of Taiwan farm produce to the mainland at an early time.

"Technical issues involved in the matter could be discussed by trade organizations of both sides first and then be confirmed by the authorities," said Tang Yi, deputy director of the economic bureau of the Taiwan Affairs Office of the State Council, at the press conference.

He urged Taiwan authorities to put the interests of Taiwanese farmers first and give green light to trade organizations to the mainland to discuss the technical details as soon as possible.

"So that Taiwan farmers could benefit from trade with the mainland at an early date," Tang added.

Cooperation in agriculture and the sale of Taiwan farm produce on the mainland, offered by the mainland, has been a hot topic across the Taiwan Straits these days.

Tang said the mainland has completed necessary preparations forthe import of more than 10 kinds of Taiwan fruits under zero tariff, and will also provide convenience to the sale of Taiwan fruits in custom clearance, product inspection and quarantine.

He also said as quick transit is important in fruit trade, the two sides should realize direct flights for farm produce trade through negotiations between non-governmental organizations.




Today's Top News
Top China News

China may use foreign exchange reserves to buy oil




Mines to appoint veterans as Guardian Angels




Bush: US sees China as economic opportunity




Identity of 'Deep Throat' source confirmed




Mainland to select giant pandas for Taiwan




Resource talks with Japan sail on - FM