Japan's PM Koizumi visits tomb for unkown soldiers
(Agencies)
Updated: 2005-05-30 14:25
Japanese Prime Minister Junichiro Koizumi, whose visits to a Shinto shrine for war dead have sparked a bitter row with China, joined in a tribute at Japan's tomb of the unknown soldiers on Monday.
As heavy rain fell, Koizumi stood in silence with Japanese politicians and foreign diplomats as the ashes of 300 soldiers were added to those symbolising some 350,000 Japanese soldiers who died in World War II.
Chidorigafuchi, an austere, non-denominational memorial near the Imperial Palace, honor's Japan's unidentified war dead whose remains are symbolically placed in a gold-plated urn inside a wooden coffin housed in a hexagonal pavilion.

Japanese Prime Minister Junichiro Koizumi lays flower during a memorial service at Chidorigafuchi National Tomb for Dead Soldiers in Tokyo May 30, 2005.[Reuters]

It stands in sharp contrast to the nearby Yasukuni Shinto shrine, once a symbol of wartime nationalism and now a site where war criminals convicted by a 1948 Allied tribunal are honored with Japan's 2.5 million war dead.

Koizumi has visited Yasukuni each year since taking office in 2001 and last went there in January 2004.

Some Japanese have suggested prime ministers could honor war dead without angering China and other Asian neighbors that suffered under Japan's wartime occupation by paying their respects at Chidorigafuchi rather than at Yasukuni.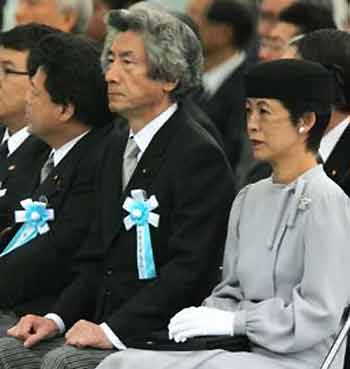 Japanese Prime Minister Junichiro Koizumi (C) sits with Princess Takamado (R) during a memorial service at Chidorigafuchi National Tomb for Dead Soldiers in Tokyo May 30, 2005.[Reuters]

"On the occasion of this ceremony, I think deeply of the war dead who became the foundation for peace and prosperity of our country of today, and express my condolences," Health Minister Hidehisa Otsuji said in an address at Monday's ceremony.

"In the meantime, I pledge to make efforts to pass on to the next generation many lessons learned from the war in order to ensure eternal peace."

Koizumi, a member of the royal family and foreign diplomats each placed a chrysanthemum on a table set before the memorial's coffin to music from a band of Imperial Palace guards.

The latest remains came mainly from Southeast Asia and Pacific islands including Iwo Jima, where U.S. forces defeated the Japanese in 1945 in a fierce battle that helped turn the tide of World War II.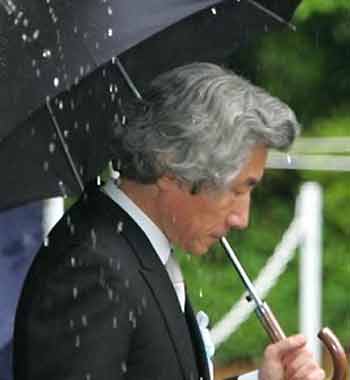 Japanese Prime Minister Junichiro Koizumi walks with an umbrella as rain water pooled on a tent pours down on him after offering a prayer at Chidorigafuchi National Cemetery for unknown soldiers in Tokyo, Japan's only nonreligious facility for war dead, Monday, May 30, 2005, two and a half months ahead of the 60th anniversary of the end of World War II.[Reuters]

Ceremonies are performed at Chidorigafuchi each May and the prime minister sometimes attends with other cabinet ministers -- without prompting complaints from other Asian countries.

PAYING RESPECTS

Yasukuni has long been the focus of controversy, in part because Shinto priests in 1978 added 14 "Class A" war criminals -- leaders including wartime prime minister Hideki Tojo -- to the lists of those worshipped as deities at the shrine.

No remains are interred at the shrine.

Sixty years after Japan's defeat in World War II, ordinary Japanese as well as politicians remain divided about official visits to Yasukuni as well as how to view the nation's past.

"The ... prime minister should be able to pay his respects to the war dead (at Yasukuni)," said Toshiko Yasuda, a 54-year-old housewife whose uncle is believed to have died on Iwo Jima.

"The prime minister has apologized for the past mistakes. That is necessary. Japan has done bad things in the past, but what we have to do is think about what to do in the future," added Yasuda, who attended Monday's ceremony.

An official of a veterans group, said he was strongly opposed to Koizumi's visits to Yasukuni.

"I want the government to build a national cemetery. I want a facility where people of various religions and beliefs can pay their respects freely," said the 68-year-old man, who declined to give his name.

Nearly three out of every five Japanese who responded to a poll published by Kyodo news agency on Saturday said they believed Koizumi should not visit Yasukuni this year.

Koizumi has repeatedly said he goes there to pay his respects to the dead and to vow that Japan would never again wage war. He has not yet said when he will visit the shrine again.




Today's Top News
Top World News

China to scrap export tariffs on 81 types of textiles




CCB removes two senior leaders amid listing




End of tax breaks for companies in sight




French voters reject first EU constitution




Bank regulator warns of soaring estate loans




China rips Japan's war-criminal remarks