Sex toys, porno stars in US Erotic Expo
(Agencies)
Updated: 2005-05-24 09:23
Sex tech, titillating toys and porn stars featured in a seedy carnival of carnal pleasures across the street from Madison Square Garden on Saturday at New York's first Erotic Expo.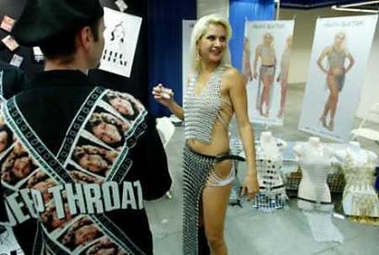 Gabriela Phillips, president and model for Chain's Reaction, wears some of her product at the Erotic Expo in New York, May 20, 2005. The expo not only features more then fifty exhibitors displaying the latest in sex toys, adult movies and other erotic-themed items, but famous adult film stars are also on-hand to meet their fans. [Reuters]
More than 50 exhibitors set up shop next to the Hotel Pennsylvania to strut their stuff in a ragged, flea market setting one flight up from the street and grab a piece of what organizers say is a $40 billion worldwide sex market.
Tera Patrick, Britney Rears and Tiffany Mynx were among the popular porno queens posing for pictures with fans in the two-day event that ended Saturday, while product innovators flogged everything from patented condoms to art object dildos, and an exercise program devised to make a man's private parts bigger.
In sizing the sex industry market at $40 billion, the organizers include topless clubs, exotic dancing, sex toys, party goods, books and pornographic movies.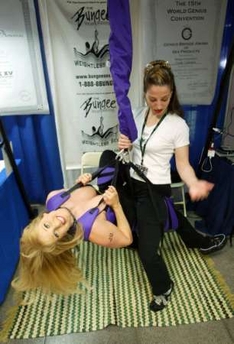 Miss Fyre (L) and Neco Suave demonstrate various positions possible with The Bungee Sexperience, a harness system that allows the user to easily maneuver and feel weightless during sex, at the Erotic Expo in New York City on May 20, 2005. The expo not only features more then 50 exhibitors displaying the latest in sex toys, adult movies and other erotic-themed items, but famous adult film stars are also on-hand to meet their fans. [Reuters]


A crowd of mainly young- to middle-aged men shuffled by the stations to ogle hard-core movie stars and sex accessories.

Mynx, showing off her features in a scanty costume, flexed her muscular derriere and encouraged a woman who asked to pose for a picture with her to "go ahead, grab it, squeeze it."

On the counter were copies of her films including "Tales from the Crack," and "Weapons of Ass Destruction."

Leon Kassman, who boasts having 12 sex product patents, displayed his latest invention, the hermaphrodite condom, designed to heighten sexual pleasure of both partners after air is pumped or blown into a thin prophylactic, filling ridges and adding length and girth, and presumably mirth.

Kassman said new products are presented to a medical school's industrial review board for approval.

ONE-HANDED APPLICATION

"In the last six years, I've arranged over 6,000 clinical trials for three products," he said, referring also to a pair of products that allow one-handed application of a condom.

Across from Kassman was The Bungee Sexperience, an award-winning design that puts a sex partner in a harness suspended by a bungee cord to "put the bounce back in your sex life."

Miss Fyre, a big-busted spokesmodel for the bungee, said it was fun seeing people walk up to a demonstration and see their eyes light up with the possibilities after watching a move she called, "the corkscrew."

Another of the new products is called "Matters of Size," an explicit DVD exercise program designed to add inches to a penis.

The five-phase program demonstrates an elaborate series of stretches, twists and rotations in painstaking order, and how many "sets" of each drill is required over the months to achieve the proper end.

One higher-end exhibitor was disappointed.

"This expo is very low end," complained Shiri Zinn, a conceptual designer who offers a line of exquisite glass and silver dildos with fox fur tail attached that cost about $1,600 and are numbered like art objects and mounted on silver stands.

"I believe that sexuality and fashion go hand in hand," said Finn. "Women want style, women like expensive materials. They don't want trash."

The majority of exhibits were dedicated to more mundane products -- lines of hard-core porno movies, special edition photo-books dedicated to porn stars and adult party purveyors.

"Porn is getting more mainstream," said Tera Patrick, one of the industry's most versatile players, a hard-core actress who has become publisher of Genesis Magazine.

Asked if that was changing the industry, she said. "It enriches the business through more movies, DVDs, pay-per-view on demand, the Internet.

"It means I make more money."




| | |
| --- | --- |
| | |
| Hollywood hard for Asians, says Zhang Ziyi | |

| | |
| --- | --- |
| | |
| Snapshots at Miss Universe beauty pageant | |

| | |
| --- | --- |
| | |
| Cecilia Cheung in Chen Kaige's period flick | |
Today's Top News
Top Life News

China-Japan ties soured by shrine visits




US tightens quota noose on textile products




Tax drop helps farmers with rising income




Bird flu outbreak in Qinghai an 'isolated' case




14 US soldiers killed in 3 days in Iraq




Old Summer Palace in new controversy