Koizumi hints to visit shrine again this year
(Agencies)
Updated: 2005-05-16 16:50
Japanese Prime Minister Junichiro Koizumi indicated Monday he will visit Tokyo's Yasukuni Shrine again this year despite China's protests against his visits to the shrine, which it views as evocative of Japan's militaristic past.

"I don't understand why I should stop visiting Yasukuni Shrine," Koizumi said in a House of Representatives Budget Committee session. "I will decide appropriately when to go."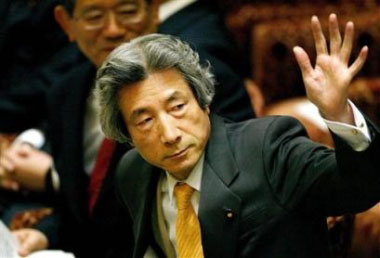 Japan's Prime Minister Junichiro Koizumi raises a hand before he answers oppositions' questions at the Parliamentary committee meeting at the National Diet in Tokyo May 16, 2005. Koizumi, speaking at the meeting, said he saw nothing wrong with his visits to Yasukuni shrine, which honors war dead including convicted war criminals. [AP]

Koizumi had been ambiguous about whether he would visit the Shinto shrine this year since Chinese President Hu Jintao lodged a strong protest against the move last November, saying he would make an appropriate decision on whether to do so.

But it has been widely speculated that Koizumi, who has visited the shrine once every year since taking office in April 2001, will continue to pay a visit at what he considers would be an "appropriate" time.

"Each country has ways to mourn the dead. Other countries should not interfere with the way of mourning," he said in response to a call by opposition Democratic Party lawmaker Yoshito Sengoku for the premier to stop the visits due to opposition from China and South Korea.

The Shinto sanctuary in Tokyo venerates 2.5 million Japanese war dead including seven men hanged for war crimes.

Neighboring countries invaded by Japan in the 20th century have voiced outrage over Koizumi's visits with China repeatedly saying he must end his pilgrimages to improve tense bilateral relations.

But Koizumi said he was paying tribute at Yasukuni shrine to all Japanese people who suffered in war, not to any individuals enshrined there.

"I visit Yasukuni with the belief that Japan will not engage in war again. In the past 60 years Japan has not gone to war," Koizumi said.

"It is true that there are feelings of complexity (with China and South Korea) through war experiences but nothing has changed in efforts to deepen the relationships," he said.

Koizumi reiterated that he sees no problem with the visits despite Beijing's anger at visiting a shrine that honors convicted Class-A World War II war criminals as well as the country's war dead, saying, "I'm not paying my respect to individuals."

The premier also brushed aside views that his diplomacy is mostly deadlocked, saying, "Japan's diplomacy has not been deadlocked nor isolated. It's going fine."




Today's Top News
Top World News

Beijing abuzz as FORTUNE global forum opens




China AIDS vaccine begins human tests




US quotas 'hurt textile industry'




Astronauts in zero-gravity tests for mission




Industry, inflation may have cooled in April




Pyongyang, Seoul resume talks after long gap