China again refuses to apologize to Japan
(Agencies)
Updated: 2005-05-07 20:59
KYOTO, Japan - China's Foreign Minister Li Zhaoxing on Saturday again refused to apologize to Tokyo for anti-Japan protests in China last month that damaged Japanese diplomatic compounds and businesses, a Japanese official said.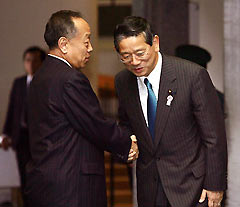 China's Foreign Minister Li Zhaoxing (L) speaks to Japan's Foreign Minister Nobutaka Machimura at the start of a trilateral meeting between Japan, China and South Korea on the sidelines of the Asia-Europe Meeting of foreign ministers in Kyoto May 7, 2005. [Reuters]


However, Li and his Japanese counterpart, Nobutaka Machimura, did acknowledge there had been "some improvement" in rocky relations between the two dies, agreeing the region's stability depended upon their mending ties, Japan's Foreign Ministry spokesman Hatsuhisa Takashima told reporters.

The two officials, meeting on the sidelines of a two-day Asia-Europe being held in Kyoto, Japan, also agreed to pursue discussions on how to compensate Japan for the damage, Takashima said.

"To some extent there was no agreement and to some extent there was, I would say, a certain improvement in the situation," he said.

Relations between the Asian giants have sunk to the lowest level in decades since violent anti-Japan protests erupted last month in several Chinese cities over Tokyo's wartime past and its push for a permanent U.N. Security Council seat.

Trade ties have surged China and Japan, but differences over interpretations of World War II history and a tussle for influence in the region have kept them from forming close ties.

The two also have feuded over the ownership of East China Sea islands, gas exploration rights, the division of exclusive economic zones and Tokyo's stance that Beijing refrain from invading Taiwan. The self-ruled island and mainland China split during civil war in 1949, but Beijing still claims it as its territory.




Today's Top News
Top China News

China, Japan clash over past, but look to move forward




Soong pays homage to KMT founder




EU told not to exaggerate textile issue




China rejects request to cut off N. Korea oil




60th WWII anniversary to be commemorated




Bush: U.S. had hand in European divisions