US-Russian disputes rise as leaders meet
(Agencies)
Updated: 2005-05-07 10:29
On the eve of a meeting with US President George W. Bush, Russian President Vladimir Putin questioned Bush's goals in Iraq and said Russia is more democratic than the United States.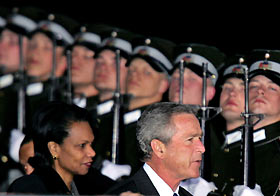 U.S. President George W. Bush and U.S. Secretary of State Condoleezza Rice review the honour guard during their arrival in Riga, capital of Latvia May 6, 2005. [Reuters]

In an interview scheduled for release Sunday, Putin signaled that he's in no mood for any criticism from Bush when the two leaders meet Sunday at Putin's compound near Moscow. Bush arrived in Latvia late Friday on his way to Moscow.

The strains between Bush and Putin were apparent as the two men shadowboxed in advance of their meeting. Bush is traveling to Moscow for a ceremony on Monday marking the 60th anniversary of the end of World War II in Europe.

Putin will host a private dinner for Bush and his wife, Laura, the night before the two presidents join more than 50 other world leaders in Moscow's Red Square for a military parade.

Before leaving Washington, Bush told Latvian journalists that he could understand why some countries are boycotting the Moscow celebration. For countries in the Baltics and in Eastern Europe, the war was followed by decades of oppression under the former Soviet Union.

Latvian President Vaira Vike-Freiberga is going to Moscow, but Lithuania and Estonia, two other Baltic countries that fell under Soviet domination, are boycotting the celebration. Despite protests from Moscow, Bush will meet with leaders from all three Baltic nations on Saturday.

"I understand there's a lot of people in the Baltics who ... don't view the celebration in Russia as a day of liberation," Bush said in an interview with Latvian National Television. "I can understand why some leaders of countries aren't going and some others are."

Putin fired back in an interview with CBS' "60 Minutes" that's scheduled to air Sunday. The Russian leader bristled at suggestions that he's backsliding on his commitment to encourage democracy in Russia.

Putin cited the disputed 2000 presidential election as evidence that Russia could be considered "even more democratic" than the United States.

"In the United States, you first elect the electors and then they vote for the presidential candidates. In Russia, the president is elected through the direct vote of the whole population. That might be even more democratic," Putin told journalist Mike Wallace.

"And you have other problems in your elections," he added. "Four years ago, your presidential election was decided by the court."

Putin also questioned Bush's effort to bring democracy to Iraq.

"Democracy cannot be exported to some other place," he said. But Putin, whose opposition to the war contributed to the tensions between the White House and the Kremlin, urged Bush to finish the job in Iraq.

"If the U.S. were to leave and abandon Iraq without establishing the grounds for a united and sovereign country, that would definitely be a second mistake," he said.

White House officials brushed off Russian criticism of Bush's trip to the Baltics. On Saturday, Bush will lay a wreath at a freedom monument in Riga. The monument served as a symbol of Latvian opposition to the Soviet-installed government that ruled the country from the end of World War II until the collapse of the Soviet Union in 1991.




Today's Top News
Top World News

President's Russian trip to fortify partnership




PFP leader calls to remember ancestral roots




China: Do not expect 40% rise in yuan value




Ping-pong team enters 100-gold club




US-Russian disputes rise as leaders meet




China-Japan talks top Asia-Europe meet