China-Japan talks top Asia-Europe meet
(Agencies)
Updated: 2005-05-07 09:13
KYOTO, Japan - North Korea's nuclear threat and deep divides over Tokyo's wartime past will be in focus on Saturday when foreign ministers of China and Japan meet.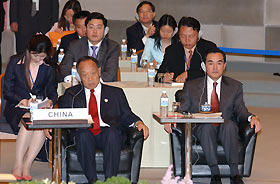 Foreign Minister Li Zhaoxin (L) and Chinese ambassador to Japan Wangyi(R) listen with earphones at the Asia-Europe Meeting in Kyoto March 6, 2005. [Xinhua]

Japan's Nobutaka Machimura will talk to China's Li Zhaoxing on the sidelines of an Asia-Europe gathering in Japan.

It is the first high-level meeting since Prime Minister Junichiro Koizumi and Chinese President Hu Jintao, at a summit last month, soothed ties that had worsened in a row over how new Japanese school books portrayed the country's wartime role.

Koizumi had made a rare public apology for suffering caused by Japan's past military aggression the day before his meeting with Hu, but feuds and mutual mistrust remain unresolved.

Such tensions could put at risk growing economic ties between the two Asian giants which generated nearly $170 billion worth of trade in 2004.

Machimura is also likely to urge Beijing to strive harder to persuade North Korea to resume six-country talks on its nuclear program amid fears the North may be preparing for an atomic test.

North Korea already dominated Friday's first day of the two-day Asia-Europe Meeting (ASEM) in Kyoto. ASEM groups 38 countries accounting for 60 percent of world trade.

Machimura told his counterparts from the Association of South East Asian Nations (ASEAN), South Korea and China that patience was wearing thin nearly a year after a third round of six-party talks ended inconclusively.

The United States has made clear it would consider taking the matter to the U.N. Security Council -- a prelude to possible sanctions -- if North Korea refused to resume the talks.

North Korea, which said in February it had nuclear weapons, has said sanctions would be tantamount to a declaration of war.

Machimura echoed the U.S. stance on Friday. "We need to think about the Security Council as a next option," he told reporters.

U.S. officials have said they believe Pyongyang has already amassed enough fissile material to make six to eight bombs and recent media reports suggest the North may be preparing to escalate the crisis with a nuclear test.




Today's Top News
Top World News

President's Russian trip to fortify partnership




PFP leader calls to remember ancestral roots




Ping-pong team enters 100-gold club




China-Japan talks top Asia-Europe meet




China's minister cools yuan revalue talk




Holiday week lashed by deadly storms