China, S. Korea work to resume 6-ways talks
(Agencies)
Updated: 2005-05-06 21:56
The foreign ministers of China and South Korea agreed Friday to make efforts for the early resumption of the stalled six-nation talks aimed at resolving the dispute over North Korea's nuclear programs, a South Korean official said.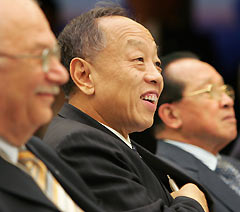 Chinese Foreign Minister Li Zhaoxing (C), flanked by Cyprus' Foreign Minister George Iacovou (L) and Cambodian Foreign Minister Hor Namhong, smiles as he listens to an opening speech during the opening ceremony for the Asia-Europe Meeting at the Kyoto State Guest House in Kyoto, Japan May 6, 2005. [Reuters]

Chinese Foreign Minister Li Zhaoxing and South Korean Foreign Affairs and Trade Minister Ban Ki Moon are also concerned that the situation would worsen if North Korea takes "an additional measure," the official said.

The official did not elaborate, but Li and Ban were probably referring to reports that North Korea may test a nuclear weapon or reprocess old fuel rods by shutting down a graphite-moderated nuclear reactor in the Yongbyon site.

Li and Ban met on the sidelines of foreign ministerial talks of Asian and European countries, which began in Kyoto on Friday.

After the talks, Li told reporters, "We'll keep in contact with North Korea and make efforts for the early resumption of the six-nation talks."

Li said restarting the talks early "would be of benefit to all parties concerned and lead to denuclearization of the Korean Peninsula and peace and stability" in the region. ADVERTISEMENT



Six countries -- North and South Korea, the United States, China, Japan and Russia -- held the third round of talks in June last year but a fourth round failed to take place in September after North Korea refused to attend, citing the "hostile" U.S. attitude toward it.

Late last month, U.S. President George W. Bush said he would continue to try to resolve the issue diplomatically through the six-party framework.

But Bush also said that the United States will consider "consequences" together with other parties to the talks, including referring North Korea to the U.N. Security Council, should North Korean leader Kim Jong Il continue to refuse to resume the talks.





Today's Top News
Top China News

President Hu and Bush talk about Taiwan, trade




Soong aims for the 'bridge of trust'




China's minister cools yuan revalue talk




Country 'shocked' by Japan's Taiwan stance




Blair's Labour Party wins re-election




China recalls germ warfare experiments