Blair's Labour Party wins re-election
(Agencies)
Updated: 2005-05-06 21:28
Tony Blair, elected to a historic third term as Britain's prime minister, acknowledged Friday that the Iraq war was "a deeply divisive issue" that hurt his Labour Party, but he said Britons were ready to "move on" and focus on the future.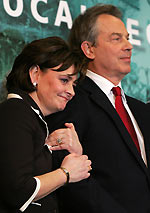 Tony Blair is hugged by his wife Cherie after retaining his parliamentary seat at Sedgefield in the north east of England with a comfortable majority May 6, 2005.[Reuters]

Blair weathered a backlash from voters in Thursday's election, although Labour's majority in the House of Commons was reduced significantly to about 60 seats instead of the previous 161. That could weaken Blair's mandate and force him to step aside before his five-year term ends.

"I know that Iraq has been a deeply divisive issue in this country. ... But I also know and believe that after this election people want to move on, they want to focus on the future ¡ª in Iraq and here," Blair said outside his office after returning from Buckingham Palace, where Queen Elizabeth II confirmed his victory.

In a sign of the strength of the anti-war sentiment, one of Blair's harshest critics was re-elected to Parliament.

"Mr. Blair, this is for Iraq," said anti-war activist George Galloway, who was expelled from Labour after urging British soldiers not to fight in Iraq. "All the people you killed, all the lies you told, have come back to haunt you.

"And the best thing the Labour Party could do is sack you."

Galloway campaigned to end the economic sanctions imposed on Iraq after its 1990 invasion of Kuwait and once said on Arab television that Arab nations should "stand by the Iraqi people." Almost half of the voters in his district are Muslim.

Later Friday, Conservative Party leader Michael Howard said he planned to step down because "I did not achieve what I set out to achieve." He said he would stay on until the party considers whether to change the rules governing the choice of his successor.

Under Howard, the Tories added more than 30 seats to their total of 160 in the last Parliament.

Labour needed at least 324 seats to form a majority in the 646-seat House of Commons. With 624 seats reporting, Labour had 353 seats, the main opposition Conservatives 197, Liberal Democrats 62, and independents and smaller parties 12.

The slip in Labour's lead could loosen Blair's grip on power and prompt calls for him to step down before serving out a full term. His Cabinet colleague and rival, powerful Treasury chief Gordon Brown, is widely regarded as his likely successor.

Never before has the Labour Party won three straight elections. Margaret Thatcher was the only other prime minister in modern British history to do so, accomplishing the feat for the Conservatives.

"I think we can be really proud of what we've achieved," Blair, who turned 52 Friday, told supporters on his return from Sedgefield to London. "We've got a mandate to govern this country again."

Blair on Friday promised "radical" legislation on health, education and law and order. His program will be announced by the queen at the state opening of Parliament on May 17.

The British Broadcasting Corp. projected Labour would win 66 more seats than all the other parties combined. Sky news put the Labour majority at 64 seats.

That margin of a Labour victory could have consequences for Britain's "special relationship" with the United States. The battering Blair took over Iraq during the campaign suggested that any future British leader will probably be wary of backing Washington militarily in the face of hostile domestic opinion.

"One of the conclusions of this is that he (Blair) certainly does not have a mandate to launch another war along with George Bush," said Robin Cook, who resigned from Blair's Cabinet in opposition to the war.

Results in 610 constituencies showed a turnout of more than 61 percent of the electorate, up 2 percent from 2001's record low.

A politically weakened Blair, who has said he will not seek another term, also could find it difficult to persuade British voters to approve a proposed constitution for the European Union, which requires ratification by all member states.

Conservative lawmaker Boris Johnson said the result reflected the "slow, sad political extinction of Tony Blair."

During the campaign, Howard accused Blair of misrepresenting flimsy British intelligence on Iraqi weapons of mass destruction and lying about the legal case for war. Though he himself backed the war, he urged voters to "wipe the smirk" off Blair's face.

Blair was once regarded as Labour's most prized assets. He banked on his trustworthiness and described himself as a "pretty straight guy" after winning power in 1997.

Labour's diminished majority is a stark indication of how far his popularity has crashed since his landslide victories of 1997 and 2001. Blair could now face difficulties controlling those Labour lawmakers deeply disillusioned with his leadership, especially over Iraq, and the centrist flavor he has given the traditionally socialist party.

Blair's government only narrowly defeated revolts in the last parliament, including the crucial vote to go to war in Iraq, and legislation introducing tuition fees for university students, more private funding for state-run hospitals and tough anti-terrorism laws.

"If his majority falls below 60 then you are in an area where an organized minority would have a strong bargaining power," said Geoff Andrews, political analyst at the Open University.

Labour's strong economic record appears to have outweighed the resentment over Iraq. The party also is credited with improving public services such as health and education through investment.

"I promise that we will listen and we will learn so that we can serve our country and our communities even better in the years to come," Brown said.

Commentators suggested power would begin to seep away from Blair to Brown, whose strong stewardship of the British economy has made him a more popular and trustworthy figure.

"On these results I would have thought, not Gordon Brown himself but the Brown supporters will be wondering how quickly they can move Tony Blair out of Downing Street," former Conservative minister Michael Portillo said.

"The key factor in the campaign was that this time Tony Blair was not an electoral asset. He was becoming a liability."




Today's Top News
Top World News

President Hu and Bush talk about Taiwan, trade




Soong aims for the 'bridge of trust'




China's minister cools yuan revalue talk




Country 'shocked' by Japan's Taiwan stance




Blair's Labour Party wins re-election




China recalls germ warfare experiments