10,001 roses sent to Wang Nan
(Xinhua)
Updated: 2005-05-06 17:58
Table tennis fans sent 10,001 red roses to Chinese star Wang Nan at the world table tennis championships on Friday.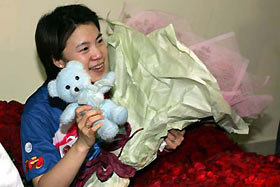 "We support you forever whenever you win or lose," shouted members of Wang Nan Fans Club, each waving a bunch of roses.
"I've nver seen so many roses in my life, especially after my defeat in the singles. I felt so sorry," sobbed Wang, number two in the world.
She was stunned by South Korea's Moon Hyun Jung 4-3 in the third round but recovered to reach the doubles final with Zhang Yining.
"Thank you for your support," Wang told her supporters. "It's a precious gift that is more important than my victory at the Olympic Games. It's an honor that I will probably never have in my life!"
The 27-year-old Wang, who has collected 17 titles from the World Cup, world championships and Olympic Games, is only one less away from the legendary Deng Yaping's record of 18 trophies.
"I guess it's my last worlds and big competiton. I will fight for the doubles title for all of you," Wang said.
As Olympic and defending champions, Wang/Zhang will play teammates Guo Yue/Niu Jianfeng in the final Saturday evening.
| | |
| --- | --- |
| | |
| Disneyland's 50th anniversary | |

| | |
| --- | --- |
| | |
| Giant 255-year-old tortoise in Indian zoo | |

| | |
| --- | --- |
| | |
| German model-actress Claudia Schiffer promotes new film | |
Today's Top News
Top Life News

President Hu and Bush talk about Taiwan, trade




Soong aims for the 'bridge of trust'




China's minister cools yuan revalue talk




Country 'shocked' by Japan's Taiwan stance




Exit Polls: Blair wins historic third term




China recalls germ warfare experiments