China recalls germ warfare experiments
(Agencies)
Updated: 2005-05-06 13:20
HARBIN, China - A gray sculpture depicts Japanese soldiers holding a Chinese man down as an army doctor injects him with what could be bubonic plague, cholera or anthrax virus.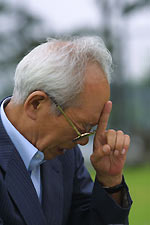 The 77-year-old Yoshio Shinozuka is in deep remorse when recalling his service in Northeast China August 7, 2001. Shinozuka is the first member from the notorious Unit 731 to speak out publicly about his role in war time. [newsphoto/file]

In another tableau, a Japanese doctor observes a person lying on the floor of a glass-walled chamber as the air pressure inside is raised to lethal levels.

Those are among the many horrific memories of Unit 731, a Japanese military base in northeast China used for germ warfare development before and during World War II, that live on at a Chinese museum built on the base's crumbling brick bones.

At least 3,000 people, including Chinese civilians, Russians, Mongolians and Koreans, were killed in tests of biological weapons and other experiments at Unit 731 between 1939 and 1945, Chinese state media say.

Biological weapons developed at the base are believed to have killed more than 200,000 Chinese during the Japanese occupation.

Now China wants to make the museum a U.N.-recognized memorial to Japanese war crimes.

"Unit 731 did any kind of experiment they could think of and harmed a huge number of people," said Wang Peng, curator and president of the 731 Exhibition Hall, which receives hundreds of visitors a day.

Wang is leading the effort to win the base UNESCO World Heritage protection, a status the U.N. body has granted to the Nazi concentration camp at Auschwitz in Poland and the Hiroshima Peace Memorial in Japan.

"They committed all manner of cruel acts. This is a unique aspect for a world heritage site," he said of the base in Pingfang, outside Harbin in China's northeastern province of Heilongjiang.

Chinese anger over Japan's actions during its 1931-1945 occupation of the country, in which Beijing says 35 million Chinese were killed or wounded, remains potent and spilled over into anti-Japanese protests across China last month.

The demonstrations were sparked by new Japanese school history textbooks that critics say sugar-coat its war atrocities and put ties between Beijing and Tokyo into free fall.

Beijing and Tokyo have recently tried to mend fences, and Japanese Prime Minister Junichiro Koizumi in April made a rare public apology for Japan's war past.

But Chinese resentment still runs strong over issues such as Koizumi's visits to Tokyo's Yasukuni shrine, where convicted war criminals are honored along with Japanese war dead, and Japan's campaign for a permanent seat on the U.N. Security Council.

On a rainy spring day, the mood at the museum seemed more somber than angry as tourists wound through half-demolished brick edifices, grassy lawns and tiled pits in the ground, remains of the secret underground laboratories where most of the experiments were done.

The only completely intact structure, Unit 731's former main office, has been transformed into an exhibition hall, in which photographs and models bring the base's gruesome past to life.

"SHAMELESS"

Shiro Ishii, the head of Unit 731, and other Japanese officers and unit staff peer out from period portraits. None of them has been prosecuted as war criminals.

Many photographs show the bodies of dead prisoners -- one shows a pile of victims' skulls.

Visitors can also walk into dark, bare cement chambers where some prisoners were exposed to extreme temperatures to test their effects on the human body.

"We don't want to make this known to everybody in the world so that we can earn their pity, we just want to expose their (Japan's) historical crimes, and show how shamelessly they acted," visitor Xue Yuanfei, a 21-year-old student, said.

Japan's government officially neither denies nor acknowledges the activities of Unit 731.

A landmark Japanese court ruling in 2002 recognized the unit's activities, but rejected a compensation demand by victims' relatives. Japanese courts have dismissed similar cases, including one in May, on grounds that government compensation issues had been resolved by post-war treaties.

Retreating Japanese forces tried to destroy evidence of the horrors committed at Unit 731 as they fled China at the end of the war, bombing the site and burning surviving prisoners.

The unit's legacy, however, remains painfully alive. Since the war ended, more than 2,000 Chinese people have been injured in encounters with chemical weapons abandoned or buried by retreating Japanese troops.

Regular discoveries of such weapons, mostly in northeastern China, only fuel anti-Japanese sentiment.

"We feel a growing sense of danger because you (Japan) do not understand history, you don't correctly understand history," Wang Peng said.

"We fear the militarism of that time could reappear, that the historic tragedy will be replayed."





Today's Top News
Top China News

President Hu and Bush talk about Taiwan, trade




Soong aims for the 'bridge of trust'




China's minister cools yuan revalue talk




Country 'shocked' by Japan's Taiwan stance




Exit Polls: Blair wins historic third term




China recalls germ warfare experiments