Soong aims for the 'bridge of trust'
By Xing Zhigang (China Daily)
Updated: 2005-05-06 09:19
XI'AN: Taiwan opposition heavyweight James Soong arrived on the mainland yesterday as the head of a 50-member delegation hoping to build a "bridge of trust" between both sides of the Taiwan Straits.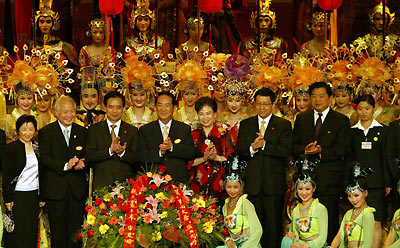 Taiwan opposition heavyweight James Soong(C), wife Viola Chen(R4) and Party chief of Shaanxi Province Li Jianguo(L3) pose for photograph with performers in Xi'an, capital of the province May 5, 2005. [newphoto]

Soong, accompanied by his wife Viola Chen, landed in the capital of Shaanxi Province for the nine-day official visit which will also take him to Nanjing, Shanghai, Changsha and Beijing.

He comes at the invitation of Hu Jintao, general secretary of the Communist Party of China (CPC) Central Committee, and in the wake of Kuomintang (KMT) Chairman Lien Chan's historic "journey of peace" to the mainland.

Soong told a welcoming party at the airport that he and his delegation had been looking forward to visiting the cradleland of Chinese civilization.

"Can't I be excited? It has taken more than 50 years for me and my wife to cross such a narrow gulf with a width of only 100 kilometres," he said.

Soong was born in March 1942 in Central China's Hunan Province and left for the island in 1949.

The 63-year-old leader of the People First Party (PFP) said he chose Xi'an as his first stop in a bid to uncover ancestral roots and worship the common ancestors of people on both sides of the Straits.

"Every one of us should ask who our ancestors are," he said in a speech at the airport.

"Our ancestry has shown we (people across the Straits) are all descendants of the Chinese nation and Chinese people."

On this point he differs with Taiwan leader Chen Shui-bian, who denies he is Chinese.

The leader of the "pro-independence" Democratic Progressive Party has been pushing for a break from the mainland since his election in 2000 and has introduced a number of de-Sinofication policies. He was re-elected in 2004.

Soong and his delegation will hold a grand ancestor-worshipping service today at the Mausoleum of Huangdi (Yellow Emperor), the legendary founder of Chinese civilization.

For a bright future for both sides of the Straits, Soong said the most important mission of his visit was to build a bridge of mutual trust, understanding and co-operation.

"We have a clear objective of promoting knowledge (about each other), understanding and reconciliation and pursuing consensus, co-existence and common prosperity," he said.

"In this way can both share glory in the 21st century and achieve the revitalization of Chinese culture," he added.

The PFP chairman stressed that his party had staunchly opposed "Taiwan independence" since its founding in 2000. The PFP is Taiwan's second-largest opposition party and holds 34 seats in the 225-member "Legislative Yuan," the island's "legislature."

"It has been our consistent belief that 'Taiwan independence' is not an alternative for Taiwan," he said.

"And we have been more strongly opposed to 'Taiwan independence' than any other Taiwanese party."

Soong said the PFP also maintains a line of promoting peace on the basis of the "1992 Consensus."

The consensus refers to an informal agreement between Beijing and Taipei on adherence to the one-China principle, but with a different interpretation of the political meaning of one China.

Last night, Li Jianguo, Party secretary of the CPC Shaanxi Provincial Committee, met with Soong and hosted a banquet in his honour at Tang Paradise, a theme park featuring the culture of the Tang Dynasty (AD 618-907).

Referring to the Chinese civil war of the 1940s, Soong said KMT Chairman Lien's visit marked an end to the history of Chinese fighting Chinese.

"We should now open a new era for Chinese helping Chinese and the rejuvenation of the Chinese nation," he said.

Li said Soong's visit will help enhance party-to-party exchanges between the PFP and CPC and benefit cross-Straits peace and stability.





Today's Top News
Top China News

President Hu and Bush talk about Taiwan, trade




Soong aims for the 'bridge of trust'




China's minister cools yuan revalue talk




Country 'shocked' by Japan's Taiwan stance




Blair makes history, but loses invincibility




EU: No trade war with China over textiles