Country 'shocked' by Japan's Taiwan stance
(China Daily)
Updated: 2005-05-06 08:57
China expressed shock at Japanese Foreign Minister Machimura Nobutaka's recent comments about Taiwan, which Foreign Ministry spokesman Kong Quan said interfere with China's internal affairs.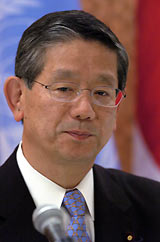 Japanese Minister of Foreign Affairs Nobutaka Machimura speaks about reforming the UN Security Council, during a meeting at the United Nations in New York, April 29, 2005. [Reuters]

In a recent speech delivered in New York, Machimura talked about making Taiwan a common strategic target for Japan and the United States, saying it did not have any disagreement with Japan's Taiwan policy so far. He said this could not be taken as an expansion of Japan's defence line to Taiwan because the island features in the Japan-US security treaty.

Kong said: "China is shocked" by the comments, which he said "interfere in China's internal affairs." China has "made solemn representations and expressed strong protests" to the Japanese side, he said.

"The Taiwan question is China's internal affair that concerns China's core interests, and anything that brings Taiwan directly or indirectly into Japan-US security co-operation and challenges China's core interests is dangerous," he said.

"The Chinese Government and people stand firmly opposed to and will not accept any such action," added Kong.

Kong recalled the recent meeting between Chinese and Japanese leaders in Jakarta, Indonesia, during which both sides reached a consensus on improving Sino-Japanese relations.

He said Japan's recent comments deviated seriously not only from Japan's commitments on Taiwan, but also from the spirit of the meeting between leaders of the two countries.

Kong said China "strongly urges" the Japanese Government to "strictly observe and honour its commitments, and stop any action that interferes in China's internal affairs."




Today's Top News
Top China News

PFP chief reiterates stance against Taiwan independence




China's minister cools yuan revalue talk




Country 'shocked' by Japan's Taiwan stance




Blair makes history, but loses invincibility




EU: No trade war with China over textiles




Solana: It's time to end China arms embargo