Exit Polls: Blair wins historic third term
(Agencies)
Updated: 2005-05-06 08:26
LONDON - Tony Blair won a historic third term as prime minister Thursday but his Labour Party suffered a sharply reduced parliamentary majority in apparent punishment for going to war in Iraq, according to projections based on exit polls. A chastened Blair said "we will have to respond to that sensibly and wisely."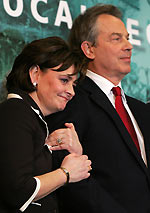 Tony Blair is hugged by his wife Cherie after retaining his parliamentary seat at Sedgefield in the north east of England with a comfortable majority May 6, 2005.[Reuters]

Such an outcome, if confirmed by the actual vote count, could set the stage for Blair to be replaced in midterm by a party rival such as Gordon Brown. As Treasury chief, Brown was widely credited for the strong economy that appears to have clinched Labour's victory, outweighing the bitterness many voters said they felt over Iraq.

Blair, bruised by opposition claims that he lied over the war, acknowledged Britons had punished his 8-year-old government.

"I know too that Iraq has been a divisive issue in this country but I hope now that we can unite again and look to the future there and here," said Blair, as he was comfortably returned to his parliamentary seat in Sedgefield, northern England, despite a challenge from the father of a British soldier killed in the Iraq war.

"It seems as if it is clear ... that the British people wanted the return of a Labour government but with a reduced majority. And we have to respond to that sensibly and wisely and responsibly."

Partial official results showed 283 seats were won by Labour incumbents, 83 went to the Conservatives, 35 went to the Liberal Democrats and 11 went to other smaller parties. Results in 306 of 646 constituencies showed a turnout of about 58 percent of the electorate.

Counting was to continue through the night, and the winner would not be officially confirmed at least until Friday morning.

But the BBC and ITV television stations projected Labour would win 358 seats in the 646-seat parliament, ahead of the Conservatives with 209. The Liberal Democrats ! the only party to have opposed the Iraq war ! were projected in third place with 53 seats, for them a disappointing gain of two seats.

The television projections, based on a survey of more than 16,000 voters in 115 closely contested districts, showed Labour with 37 percent of the popular vote, the lowest winning share ever.

Never before has the Labour Party won three straight elections. Margaret Thatcher accomplished the same feat for the Tories, the only other prime minister in modern British history to do so.

But if the BBC projection is correct that Labour's majority will decline from the current 161 seats to 68, Blair could face difficulties controlling a faction of his party deeply disillusioned with his leadership, especially over Iraq.

"One of the conclusions of this is that he (Blair) certainly does not have a mandate to launch another war along with George Bush," said Robin Cook, who resigned from Blair's Cabinet in protest to the war.

Clare Short, who also quit Blair's Cabinet over the war, said Blair had proved a liability.

"I think everyone agrees we would have done better with a different leader," Short said.

The White House reacted cautiously. President Bush was expected to make a call to Blair once the vote count became clearer, aides said.

Former Conservative Defense Secretary Michael Portillo said the projected outcome could prove perilous for Blair.

"On these results I would have thought ... the Brown supporters will be wondering how quickly they can move Tony Blair out of Downing Street," he said.

Brown called the predicted Labour victory "historic" but said it was too early to say what the majority would be.

"This is the work that drives us on. This is the vision that gives enduring purpose to what we do. This is the task our party wants to take forward starting from this morning," Brown said after winning a seat in his constituency.

While Blair apparently was diminished in victory, Conservative leader Michael Howard gained stature as his party lost a third straight election but at least showed some signs of life.

The Conservatives were projected to take 33 percent. The Liberal Democrats were in third place with 22 percent.

A big part of the Conservative strategy was to make it a referendum on Blair, urging voters to "wipe the smirk" off his face. Although Howard supported the Iraq war, he attacked Blair, accusing the prime minister of lying about intelligence and the legality of the invasion and lacking a plan to win the peace.

But Blair benefited from the Conservatives' even greater unpopularity and a perception that the opposition is less capable of handling the economy.

And the government's strong economic record ! Britain's growth is high and unemployment low compared to much of the rest of the European Union ! appears to have outweighed the resentments over Iraq. Labour is also credited with improving public services such as health and education through investment.

Still, the projected victory for Labour on Thursday stood in stark contrast to Blair's landslides in 1997 and 2001.

Blair's government only narrowly defeated Labour revolts in the last parliament, including the crucial vote to go to war in Iraq and legislation to introduce tuition fees for university students, allow more private funding for state-run hospitals and toughen anti-terrorism laws.

Other governments have coped with smaller majorities. Thatcher won with a majority of 43 in 1979. Her successor, John Major, struggled along with a majority of 21, which shrank toward zero at the end of his five-year term in 1997.

Blair says this will be his last term. A politically weakened Blair would find it difficult to persuade British voters to approve a proposed constitution for the European Union ! which requires ratification by all member states.

During the campaign, the left-leaning Guardian newspaper offered free clothespins to any reader who requested one after a columnist urged reluctant Labour supporters to put aside opposition to the Iraq war and back the party for its domestic policies.

Iraq loomed large in voters' thinking.

"Iraq has been a big thing ! trust," said Nicola Wyndham, 33, who voted for Labour four years ago but switched to the Liberal Democrats this time. "He (Blair) has had eight years to make an impact and he really hasn't. There are still problems with health, education and crime."

"I've turned from Labour to Liberal Democrat because I don't really believe what Labour are saying," said Marguerite Hoy, 64, a voter in Braintree, northeast of London.

Democratic Party volunteers from the United States joined Blair's campaign, including Stan Greenberg, Zack Exley, Bob Shrum and Karen Hicks.

Republicans, the traditional allies of British Conservatives, were not much in evidence. Bush's White House has kept the Tories at arms length in deference to his alliance with Blair.

In New York, two small makeshift grenades exploded early Thursday outside a building housing the British Consulate. The blast caused minor damage and no injuries.




Today's Top News
Top World News

President Hu and Bush talk about Taiwan, trade




Soong aims for the 'bridge of trust'




China's minister cools yuan revalue talk




Country 'shocked' by Japan's Taiwan stance




Exit Polls: Blair wins historic third term




EU: No trade war with China over textiles