Taiwan PFP leader to begin mainland trip
(Agencies/chinadaily.com.cn)
Updated: 2005-05-05 11:07
The leader of Taiwan's second-largest opposition party is expected to arrive at XiˇŻan, Shaanxi Province, on Thursday, to help ˇ°build a bridge of trust, cooperation and communication between the two sidesˇ± of the Taiwan Straits.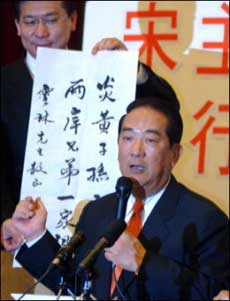 James Soong, Taiwan's opposition People First Party, shows a copy of calligraphy during a press conference on the eve of his nine-day 'bridge-building' journey to the Chinese mainland in Taipei May 4, 2005. Soong left for his mainland visit, which follows a similar visit by Taiwan's opposition leader Lien Chan. [AFP]

The eight-day visit by James Soong, chairman of the pro-reunification People First Party (PFP), came on the heels of a historic reconciliation between Taiwan's biggest opposition party, the Kuomintang (KMT) and the Communist Party of China, headquartered in Beijing.

Soong, 63, was once a leading figure of the KMT before founding his own party in 2000. The PFP has 34 seats in the 225-member Taiwan local parliament, and is in an alliance with the KMT to form a majority opposition.

During a press conference on the eve of his departure, Soong said he opposed firmly Taiwan independence.

"We strongly oppose Taiwan independence," he said. "It is a road that would lead to a dead end, and it has never been an option of the PFP. Taiwan independence would only bring in disaster and cannot solve the dispute across the Taiwan Straits."

As he left Taiwan Thursday, Soong downplayed suggestions that he was to use the trip to deliver a message from the island's pro-independence leader Chen Shui-bian to Beijing.

"The PFP hopes to build a bridge of trust, cooperation and communication between the two sides," Soong told reporters at the airport in Taipei shortly before his departure. "I am not doing this for any individual but to resolve the misunderstandings that have existed between the two sides in decades in order to usher in a new era."

Soong's trip comes only days after Lien Chan, leader of KMT, returned from a landmark visit to the mainland.

Soong will pay tribute to Sun Yat-sen, the founder of the KMT, in the eastern city of Nanjing on Saturday. He will also visit Shanghai and Changcha, his birthplace. Beijing is on his itinerary early next week.

Last Friday, KMT chairman Lien Chan shook hands with CPC General Secretary Hu Jintao and agreed to end decades of hostilities between the civil war enemies. Their move increased pressure in the Taiwan island and world community on Chen to also mend fences with the mainland, analysts say.

Beijing refuses to deal with Chen, of the Democratic Progressive Party (DPP), unless he first renounces his independence vision, and embrace ˇ°one Chinaˇ± principle.

Neither Lien nor Soong have any authority to conclude agreements with the mainland, but observers have speculated that their diplomatic efforts are putting pressure on Chen to take a more pro-active stance.

"Lien's successful mainland trip sets an example for Taiwan authorities and was also a great encouragement of public opinion in Taiwan," Sun Shengliang, a Beijing-based Taiwan affairs researcher, told Xinhua.


Today's Top News
Top China News

EU urged to grant full market status




Taiwan PFP leader to begin mainland trip




Minister eases European concern on textiles




Lien calls for cross-Straits cooperation




Beijing keeps lid on anti-Japan sentiment




China wins ping-pong mixed doubles



Story Tools


Advertisement