Experts unveil 'most beautiful mummy'
(Agencies)
Updated: 2005-05-05 10:20
CAIRO - Egyptian archaeological experts have unveiled what they described as the most beautiful mummy ever unearthed.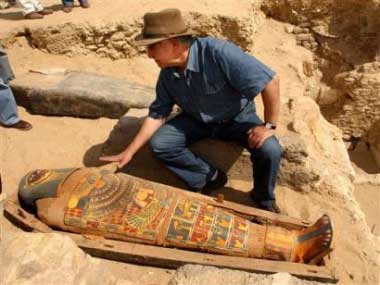 Zahi Hawass, chief of Egypt's Supreme Council of Antiquities, checks a brilliantly colored mummy dating back more than 2,300 years Tuesday May 3, 2005, at Egypt's Saqqara Pyramids complex south of Cairo. The unidentified mummy, from the 30th pharaonic dynasty, had been buried by sand in a 6 meter (20 feet) shaft. Hawass, said the mummy will undergo CT scanning before being put on display at a Saqqara museum. [AP]

The mummy dates to the 30th dynasty (378-341 BC) and was discovered almost intact during excavations around the pyramids in Saqqara, Zahi Hawass, secretary general of the Supreme Council of Antiquities, said Wednesday.

Experts still have to identify the beautifully decorated mummy, with a golden mask, that was found buried in a shaft in the ground.

It was adorned with multiple colours and graphic scenes depicting ancient Egyptian rituals and life.

One such scene depicted the god Anubis preparing the dead for burial. Below there was a painting of the god Horus sitting in front of an altar and another of Horus' four children.

There is also a painting of a sun disc above Horus, and Ma'at, goddess of truth, right and order, is shown with her wings spread.

Experts hope to use CT scanning technology to learn more about the mummy.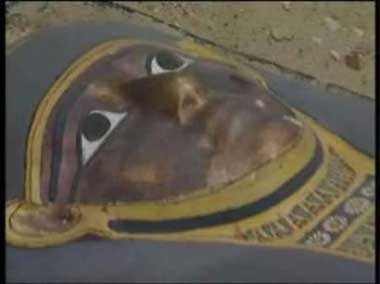 Archaeologists discovered what could be the most finely decorated mummy ever found in Egypt, Zahi Hawass, the head of Egypt's Supreme Council for Antiquities said on May 3 2005. An Egyptian archaeological team led by Hawass, digging near the Saqqara pyramids, found the mummy, which dates back to the 30th Dynasty (380-343 BC), last week. Photo by Reuters Reports/Reuters A mummy discovered near Egypt's Saqqara pyramids is hailed as as the most finely decorated ever found. [Reuters]
Today's Top News
Top World News

EU urged to grant full market status




Minister eases European concern on textiles




Lien calls for cross-Straits cooperation




China wins ping-pong mixed doubles




First wetland park welcomes residents




EU envoy working to lift China arms ban