Family pleads for Iraqi hostage's freedom
(Agencies)
Updated: 2005-05-04 19:38
Two brothers of an Australian man held hostage by Iraqi militants pleaded for his release on Wednesday, telling Arab television network Al Jazeera he was a loving family man with a deep respect for the Iraqi people.
The plea came after Australian Foreign Minister Alexander Downer appeared on the network to plead for militants to release Douglas Wood, 63, an engineer who lives in California and is married to an American.
Malcolm and Vernon Wood, in a video statement taped in Australia, said their brother suffered from poor health, and was a good family man with a daughter, two step children and two grandchildren.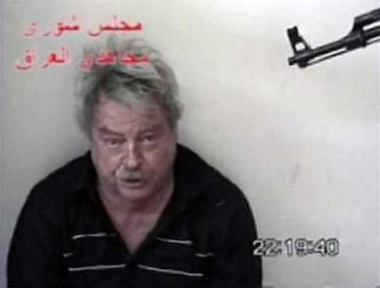 A video grab from a tape delivered by militants to news agencies on May 1, 2005 shows 63-year-old Australian hostage Douglas Wood at an undisclosed location in Iraq.[Reuters]

"Douglas respects the people of Iraq, their patriotic spirit and their right to independence," Malcolm Wood said in a copy of the statement released in Australia.

He said that if Wood was released, the family would ask him to close his engineering company and leave Iraq.

"We do not wish Douglas, an unwell man, to remain in Iraq, away from his loved ones," he said.

"On behalf of all of us, we, Douglas's family, ask his captors to return him to us unharmed."

Australia has sent an emergency response team to Baghdad to help work for Wood's release.

Downer earlier told Al Jazeera that Wood had a serious heart problem and wanted to be reunited with his wife and child.

"Mr. Wood is not a well man. He has had significant heart problems and he has a wife and he had three brothers and a child ... he wants to be able to see his family again," Downer said, according to a transcript of the interview.

"We would appeal to the people who have taken him hostage to release him and not to involve a man who is just providing assistance to the Iraqi people, not to involve him in politics, just to release him."

VIDEO "CREDIBLE"

A two-minute video delivered to news agencies in Baghdad on Sunday showed Wood held at gunpoint. Downer said the video was credible and that Wood may have been kidnapped from his Baghdad apartment up to two days before it was released by his captors.

Wood called in the video for U.S., Australian and British authorities to withdraw their troops from the country.

Downer told Australian television on Tuesday that 400 foreigners had been kidnapped in Iraq since September 2003, with 30 of those killed and 15 still held hostage.

"There are any range of different reasons why people have been either released or they've been executed. In this case, the demand made through the (video) is, of course, a demand the terrorists must know is not going to be met," Downer said.

Australia, a staunch U.S. ally, was among the first to join the war on Iraq two years ago.

A further 450 Australian troops are due to arrive in southern Iraq over the coming weeks to provide security and train the Iraqi army. They will take the total number of Australian troops in and around Iraq to about 1,400.

Opinions polls showed in May last year that nearly two-thirds of Australians believed the war on Iraq was unjustified. Half of Australians believed it was not worth sending troops to Iraq, while 40 percent backed the conservative government's decision.

Howard won a fourth straight term at an election last October by crushing center-left opposition Labor, whose leader had vowed to bring Australian troops home by Christmas.

Australia angered Spain and the Philippines last year when it accused them of encouraging terrorists by pulling their troops out of Iraq. The Philippines brought their troops home early to save the life of a Filipino hostage.




Today's Top News
Top World News

In one-China frame talks may cover 'any issue'




Suicide bomber kills 60 in Iraqi Kurd city




US-China summits' high stakes




China to assure Europe on textile exports




Iran vows to pursue peaceful nuke plans




US Federal Reserve raises target rate to 3%