Suicide bomber kills 60 in Iraqi Kurd city
(Agencies)
Updated: 2005-05-04 15:45
A suicide bomber struck the offices of a Kurdish party in northern Iraq on Wednesday, killing at least 60 people in the bloodiest attack since a new government promising stability was formed a week ago.
Witnesses said a crowd had gathered outside the Kurdistan Democratic Party (KDP) office, which also served as a police recruiting center, when the bomber hit.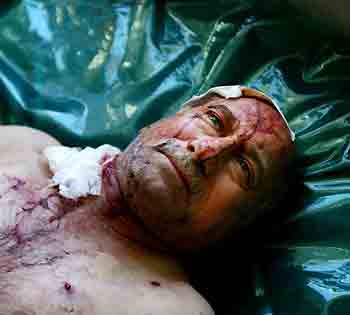 An injured Iraqi man lies in hospital after a road side bomb in Baghdad May 4, 2005. A suicide bomber killed at least 60 people and wounded 150 more when he blew himself up at the office of a Kurdish party in the northern Iraqi city of Arbil on Wednesday, a health official said. [Reuters]

A health ministry official in Arbil said 150 people were wounded. Hospitals said they were overwhelmed with casualties.

The bloodshed came a day after a new government was sworn in and three months after historic elections that Iraqis hoped would lead to improved security.

Iraqi politicians, who squabbled for months before forming an incomplete cabinet, accuse insurgents of trying to spark a civil war with bombings designed to deepen sectarian tensions.

The Kurdish north has been relatively free of the suicide bombings and shootings gripping other parts of the country.

The KDP is one of two main parties in a Kurdish coalition that came second in the Jan. 30 polls, which sidelined Sunni Muslims dominant under Saddam Hussein and turned the Shi'ites and Kurds into the new powers.

Insurgents have stepped up attacks since Iraq's first democratically elected government was formed last week, with car bombs and other attacks killing about 200 people.

A doctor at Al Jumhouri hospital in Arbil, one of three medical centers treating victims of the bombing, said he had received 60 casualties so far.

SECTARIAN DIVISIONS

"A large number of the patients are suffering from burns and shrapnel wounds. Passers by were also wounded. We are treating a 10-year-old child," he said.

Police and firemen inspected the damage at the KDP office as pools of blood mixed with sewage water and flowed over a large area of a street.

"I was standing outside. All I remember is seeing a huge explosion and seeing many people that were injured and killed," said Fareed Makhdid, a dazed 28-year-old policeman covered in blood.

Arbil, home to the Kurdish regional government, also suffered heavy losses last year when twin suicide bombings hit the offices of the two main Kurdish parties, killing 117 people.

"This is a terrorist act aimed at disturbing security in Arbil," Nawzaat Haadi, governor of Arbil.

Iraqi leaders fear such large-scale attacks will lure Kurds and Shi'ites into violence that will spill over into a major sectarian and ethnic conflict.

They often blame the al Qaeda leader in Iraq, elusive Jordanian militant Abu Musab al-Zarqawi, for trying to trigger civil war with spectacular suicide bombings.

They hope to ease the violence by drawing in Sunni Muslims, whose members are leading the insurgency, into the political process.

Shi'ites and Kurds have given Sunnis six ministries and one deputy prime minister post in a bid to unify the country's leadership. But Shi'ites and Kurds dominate most of the top posts.

Prime Minister Ibrahim al-Jaafari, an Islamist Shi'ite, has yet to fill five portfolios, including the key defense and oil ministries, underscoring the bickering that has prevented politicians from tackling the security crisis.

Iraqi leaders are banking on the country's forces improving their performance and taking over security from 140,000 U.S. troops.

But Iraqi forces, who have lost hundreds of comrades, cannot protect themselves against insurgents, who have again proven their capabilities with a week of carnage.

Roadside bombs killed two American soldiers in Baghdad on Tuesday, the U.S. military said. They were killed in two separate attacks, raising the number of Americans killed in action to at least 1,213 since Saddam was toppled in 2003.




Today's Top News
Top World News

In one-China frame talks may cover 'any issue'




Suicide bomber kills 60 in Iraqi Kurd city




US-China summits' high stakes




China to assure Europe on textile exports




Iran vows to pursue peaceful nuke plans




US Federal Reserve raises target rate to 3%