Iran vows to pursue peaceful nuke plans
(Agencies)
Updated: 2005-05-04 07:50
Iran vowed on Tuesday to press ahead with nuclear activities and accused the United States and Israel of threatening international peace with their own atomic arsenals.
"Iran is determined to pursue all legal areas of nuclear technology including (uranium) enrichment, exclusively for peaceful purposes," Foreign Minister Kamal Kharrazi told a conference to review the 1970 Nuclear Nonproliferation Treaty.
He said it was wrong to limit "access to peaceful nuclear technology to an exclusive club of technologically advanced states under the pretext of nonproliferation."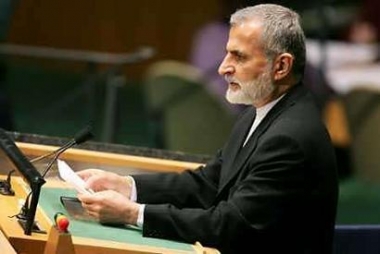 Iranian Foreign Minister Dr. Kamal Kharrazi addresses the 2005 Review Conference of the Parties to the Treaty on the Non-Proliferation of Nuclear Weapons in the General Assembly hall at United Nations headquarters in New York, May 3, 2005. [Reuters]

In Washington, US Secretary of State Condoleezza Rice told reporters Iran could not have access to dangerous nuclear technology and reiterated that the issue may be referred to the U.N. Security Council, which could impose economic sanctions.

"They can't have access to certain kinds of technology that can, that have ... proliferation risk," Rice said.

Iran criticized the United States, which accuses Tehran of using its nuclear program as a front for developing arms, for not scrapping its own arsenal as required by the treaty.

"Unilateral nuclear disarmament measures should be pursued vigorously," Kharrazi said. It was also "abhorrent that ... the dangerous doctrine of the use of nuclear weapons against nonnuclear states and threats was officially proclaimed by the United States and NATO."

Rising tensions about Iran as well as North Korea, which has said it has nuclear arms, dominated the opening of a monthlong U.N.-sponsored conference on the NPT, the cornerstone of atomic disarmament pacts.

The United States on Monday pressed the 188 attending nations to ensure Tehran and Pyongyang were denied peaceful nuclear energy benefits because they had violated the treaty.

IRAN POINTS FINGER AT ISRAEL

Kharrazi also singled out Iran's other enemy, Israel, whose assumed nuclear arsenal he said "has endangered regional and global peace and security."

"Israel has continuously rejected the calls by the international community ... to accede to the NPT," he said.

Israel, which neither admits nor denies having the bomb, is estimated to have about 200 warheads. The Israeli government has denied it plans to attack Iran's nuclear facilities.

France, Britain and Germany want Iran to give up enrichment, a process of purifying uranium for use in power plants or bombs, in exchange for a package of incentives. Four months of talks have not persuaded Iran to yield.

In a comment clearly aimed at the European Union's three biggest powers Kharrazi said "no one should be under the illusion" that abolishing its nuclear fuel enrichment program would provide what he called an objective guarantee Tehran would not pursue the bomb.

Instead, intrusive inspections and careful monitoring by the International Atomic Energy Agency, the U.N. nuclear watchdog, could provide the international community with assurances Iran's program is entirely peaceful, he said.

In a November deal with the EU trio, Iran agreed in Paris to freeze all atomic fuel activities while both sides tried to negotiate a long-term solution on Iran's atomic ambitions. But Iran has threatened to resume some enrichment activities.

The EU has said it would back U.S. calls for a referral to the Security Council if Tehran resumed enrichment activities.