All-Chinese matter in women's doubles at WTTC
(Xinhua)
Updated: 2005-05-03 16:56
The women's doubles semi-finals at the 48th world table tennis championships in Shanghai become an all-Chinese affair as three pairs from China and one from Hong Kong, China reached the event's last four on Tuesday.
Wang Nan/Zhang Yining, Athens Olympic gold medalists and defending champions, swept past Japanese pair Fukuhara Ai/TatiyanaKostromina 4-0 (11-3, 11-9, 11-9, 11-3).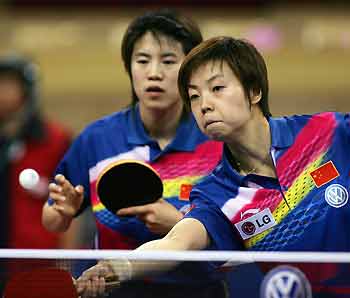 Zhang Yining of China (R) returns the ball while her partner Wang Nan looks on during their women's doubles round three match against Ai Fujinuma and Ai Fukuhara of Japan at the 48th World Table Tennis Championships in Shanghai, China, May 3, 2005. Zhang and Wang won 4-0. [Reuters]

Coming back from a shoulder injury and a third-round defeat from mixed doubles earilier on Tuesday, Zhang said: "The injury and loss didn't affect my play in the doubles. I'll also try my best in the singles."

Bai Yang/Guo Yan stopped Hungarians Csilla Batorfi/Krisztina to the 4-0 (11-7, 11-7, 11-8, 11-6).

Croatian Tamara Boros, the highest-ranked European woman, and her partner Cornelia Vaida were eliminated by Chinese Guo Yue/Niu Jianfeng at 4-1 (11-6, 11-2, 10-12, 7-11, 11-2).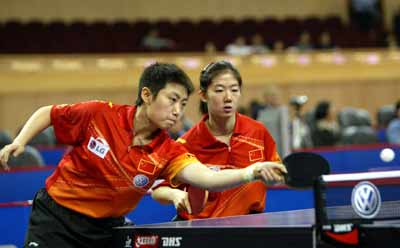 Chinese Guo Yue (L) plays a shot and her partner Niu Jianfeng watches in the women's doubles match against Croatian duo Tamara Boros and Cornelia Vaida at the 48th world table tennis championships in Shanghai May 3, 2005.[Xinhua]

In a battle against teammates, Tie Yana/Zhang Rui showed no mercy to Lau Suifei/Song Ah Sim of Hong Kong, China with a 4-1 victory (11-8, 11-5, 11-9, 11-13, 11-3).

Wang/Zhang will play Tie/Zhang and Bai/Guo face Guo/Niu in the women's last four on the championships' last day, on May 6.

Ma, Chen claim men's double semi-final berth at ITTF

Olympic champions Ma Lin and Chen Qi almost stumbled at the semi-finals, coming back from a 2-0 deficit to beat Chiang Peng-Lung and Chuan Chih-Yuan 4-2 at the world table tennis championships in Shanghai on Tuesday.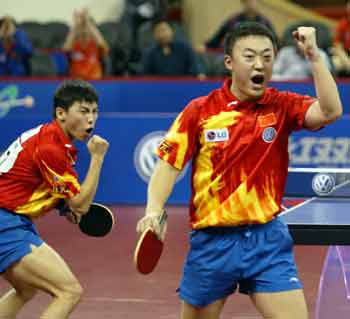 Ma Lin (R) and Chen Qi celebrate after defeating Chiang Peng-Lung and Chuan Chih-Yuan of Chinese Taipei 4-2 at the world table tennis championships in Shanghai Tuesday May 3, 2005.[Xinhua]

The Chinese pair took complete domination after the first two sets to win the quarter-final 8-11, 8-11, 11-2, 11-5,11-2, 11-6 over their Chinese Taipei opponents.

After losing the first two sets quickly, Ma and Chen used a 11-2 third-set win to calm down and find the rythme of the game.

They took an early lead on every set from then on and never letany chance to their opponents, who are tagged as the best pair in Chinese Taipei team.

Chiang and Chuan popped up some challeng on the final set when they were down 5-0. They stopped powerful forehand strikes of theChinese pair to make it 8-6.

The faster and more dedicated Chinese were not intimadated and ran on to take the game for good.




| | |
| --- | --- |
| | |
| World Table Tennis Championship kicked off | |

| | |
| --- | --- |
| | |
| Manchester United crush Charlton 4-0 | |

| | |
| --- | --- |
| | |
| Real Madrid beat Real Sociedad 2-0 | |
Today's Top News
Top Sports News

Beijing offers tariffs cut, pandas as KMT ends visit




Body of one F/A18 jet pilot found in Iraq




Concessions urged as nuclear fears rise




Deal ranks Lenovo as world No 3 PC maker




Iraqi leaders seek deal amid bloodshed




England pleads guilty to abusing prisoners