Spurs defeat Nuggets 126-115 in overtime
(Agencies)
Updated: 2005-05-03 16:30
Tim Duncan is back, Manu Ginobili is still going and the Denver Nuggets are all but done.
Duncan had his best game of the series, Ginobili provided the spark off the bench for the third straight game and Tony Parker scored 11 of his 29 points in overtime. That helped the San Antonio Spurs move within a game of clinching the series with a 126-115 victory over the Denver Nuggets on Monday night.
Duncan shook off foul trouble and poor shooting ! 5-of-19 ! in Game 3, scoring 39 points and grabbing 14 rebounds. Ginobili shot just 5-of-13, but went 12-of-16 on free throws to finish with 24 points and six assists. Parker finally had success getting into the lane against the Nuggets, hitting 11 of 19 shots and dishing out seven assists.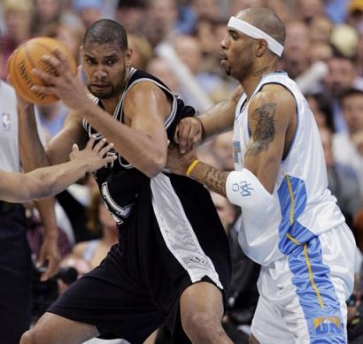 San Antonio Spurs forward Tim Duncan, left, turns to work the ball inside against Denver Nuggets forward Kenyon Martin in the first quarter of Game 4 of their NBA Western Conference first-round series in Denver on Monday, May 2, 2005. [AP]

It all means the Spurs can close out the series in Game 5 Wednesday in San Antonio, where the Spurs have lost three times all season ! but fell in the series opener to Denver.

Earl Boykins found his shooting touch after three tough games, scoring 32 points, and Carmelo Anthony finally got his stroke against the Spurs with 28. It still wasn't enough for the Nuggets, who need to win three straight to keep from bowing out in the first round for the second straight year.

San Antonio has made the series a grind, slowing Denver's break and turning each game into matchups of halfcourt sets.

Game 4 all but came to a halt, with 73 fouls and 91 free throws ! a perfect fit for the Spurs' physical style.

It still wasn't easy.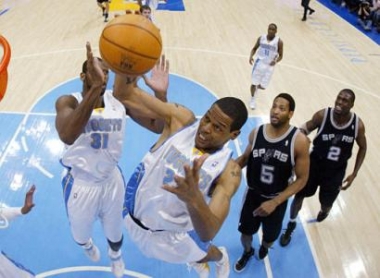 Denver Nuggets forward Marcus Camby, second from left, pulls in a rebound as Nuggets forward Nene, left, of Brazil looks on with San Antonio Spurs forward Robert Horry, third from left, and center Nazr Mohammed in the first quarter of Game 4 of the teams' NBA Western Conference first-round playoff series in Denver on Monday, May 2, 2005. [AP]

Denver trailed by as many as 12 in the third quarter before clawing its way back in the fourth. Anthony kept the Nuggets in it in the final minutes, following two free throws by Duncan with a drive, and after Ginobili's finger roll, Anthony hit a baseline jumper to tie the game at 105.

Parker hit a baseline jumper at the other end to put the Spurs up, then Anthony hit two free throws to tie it again with 14.4 seconds left. San Antonio worked the ball to Ginobili, who held it for 10 seconds before driving. But Greg Buckner blocked his leaner and nearly hit from halfcourt as the buzzer sounded.

San Antonio took control of overtime, hitting its first three shots to go up 113-107. Duncan fouled out with 2:55 left when Anthony fell on a drive, but the Nuggets couldn't get closer than four after that.

The Nuggets have turned Ginobili into the villain of the series ! at least in Denver ! calling his game ugly, his headlong approach wild and even taking a cheap shot at him late in Game 3.

The fans followed the team's lead, greeting him with a chorus of boos as he entered the game midway through the first quarter and every time he touched the ball.

Ginobili needed just a few seconds to drop in a 3-pointer on his first shot in the third quarter. Putting his head down and drawing contact ! the move that has infuriated the Nuggets all series ! Ginobili had nine points over the final 7 minutes to help the Spurs to an 87-80 lead.

Duncan wasn't bad, either.

He got deep post position all night, setting up a variety of jump hooks and turnarounds. He had 18 points by halftime and hit several key shots in the closing minutes of regulation.




| | |
| --- | --- |
| | |
| World Table Tennis Championship kicked off | |

| | |
| --- | --- |
| | |
| Manchester United crush Charlton 4-0 | |

| | |
| --- | --- |
| | |
| Real Madrid beat Real Sociedad 2-0 | |
Today's Top News
Top Sports News

Beijing offers tariffs cut, pandas as KMT ends visit




Body of one F/A18 jet pilot found in Iraq




Concessions urged as nuclear fears rise




Deal ranks Lenovo as world No 3 PC maker




Iraqi leaders seek deal amid bloodshed




England pleads guilty to abusing prisoners