Beijing offers aid package as KMT ends visit
(chinadaily.com.cn)
Updated: 2005-05-03 14:34
China¡¯s central government in Beijing will lift restrictions on mainlanders touring Taiwan, and has offered to scrap tariffs on more than 10 kinds of fruit from Taiwan and allow imports of six more fruit species, in a package of aids to help isle economy.
The offerings, in addition to a pair of giant pandas, were made by Beijing as a gesture of goodwill at the end of a landmark visit by Taiwan Kuomingtang (KMT) leader Lien Chan on Tuesday.
However, it is up to the Taiwan authorities headed by independence-minded DPP leader Chen Shui-bian whether the offerings will be accepted and implemented, analysts said.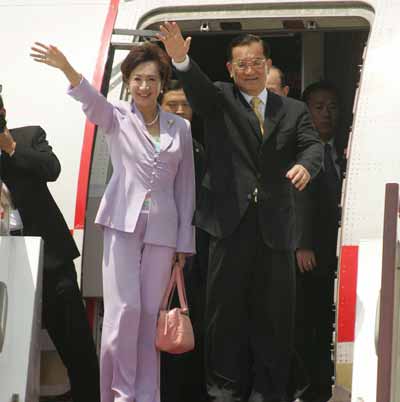 Visiting Chinese Kuomintang (KMT) Party Chairman Lien Chan and his wife Lien Fang-yu bid farewell as they board the plane to Taiwan with a stopover in Hong Kong at the Shanghai Pudong Airport May 3, 2005. Lien said his mainland tour is "pleasant, smooth and successful", and thanked the mainland side for their hospitality.[newsphoto]

"We feel that their gift of giant pandas is partly to further their political goal of re-unification," said DPP member Jao Yung-ching at a news conference in Taiwan.

The Communist Party of China (CPC) led by President Hu Jintao has made unprecedented success in moderning China¡¯s economy, which is destined to become Asia¡¯s largest. Boosted by rising confidence, Beijing is trying to attain another major goal cherished by 1.3 billion better-off Chinese, to achieve a peaceful reunification of Taiwan with the mainland.

Taiwan has been split from the mainland ever since 1949 when then KMT Nationalist government failed in a civil war with CPC troops led by Mao Tsedong, and fled to Taiwan.

There are currently many restrictions on mainlanders going to Taiwan -- not just from the mainland side. Ordinary citizens cannot go as tourists to the island as they need invitations from Taiwan groups, such as professional delegations or academic institutions.

"Tourism administration and all relevant parties on the mainland welcome organizations from Taiwan's tourism industry to start consultations with us on an earlier date in order to make detailed arrangements accordingly," Chen Yunlin, head of CPC Central Committee¡¯s Taiwan Affairs Office, said.

Taiwan residents made 3.7 million trips to the mainland in 2004, while only 145,000 mainlanders visited Taiwan Isle.

Lien is the first chairman of the Kuomintang (KMT), to set foot on the mainland since 1949. He has left Shanghai for Taipei on Tuesday after a historical week-long trip in which he also visited Nanjing, Beijing and Xi¡¯an.

The fruit tariff exemption could help the KMT win supporters in southern Taiwan, a mainly agricultural region, eroding the support base of Chen Shui-bian, who is reviled by the mainlanders and overseas Chinese community for his pro-independence stance.

"The mainland is ready to provide convenience in terms of customs pass, inspection and quarantine for Taiwan fruits to access the mainland market," Chen Yunlin said.

"We hope relevant Taiwan departments in charge of the issue will give the green light for Taiwan agricultural organizations to hold consultations with the mainland on issues concerning the place of origin certificate, inspection, quarantine as well as direct transport to improve efficiency and reduce risk."

The biggest obstacle to the sale of Taiwan's farm produce on the mainland was the absence of direct flights. Beijing has been pushing for Taipei to end a decades-old ban on direct trade, transport and mail links -- known as the "three links" -- between the Taiwan and the mainland.

Lien's visit, and one starting later this week by James Soong, head of Taiwan's People First Party (PFP), "helped deepen the affection between Chinese compatriots on the two sides of the Straits", Chen Yunlin said.

"We hope the pandas, with their tame nature, air of nobleness and cuddly looks will bring joy and laughter to the Taiwan compatriots, children in particular," he said.

"Taiwan businesses are faced with a crucial moment for seizing market and business opportunities and striving for future development in the mainland," KMT leader Lien Chan said at a luncheon.

"If Taiwan keeps a closed mentality, we are quite likely to suffer serious negative impact," he said. It is believed that up to a million Taiwan businesspeople and their relatives live on the mainland..

Lien said the KMT had agreed with China's Communist Party to establish a "platform" for exchanges in the economic and trade field.

"The establishment of such a platform is of vital importance, as currently there's still no sign of official contacts between the two sides," he said, referring to the chilly relationship between Taiwan's government and Beijing.

"The Taiwan government should make adequate preparation so that the two sides can negotiate and implement their agreement to end hostilities," Lien said.

Lien said that as part of the peace agreement, the two sides ought to set up a system of military confidence-building measures. "Oral arrangements are not enough," he said. "It's important to establish a system to ensure mutual military trust."




Today's Top News
Top China News

In one-China frame talks may cover 'any issue'




Beijing offers aid package as KMT ends visit




Iraqi gov't sworn in amid wave of violence




Concessions urged as nuclear fears rise




Deal ranks Lenovo as world No 3 PC maker




Iraqi leaders seek deal amid bloodshed