Mixed fortunes for China automakers
(Agencies)
Updated: 2005-05-01 11:46
The future of China's auto industry is unfolding on the packed elevated highways of this nation's commercial capital, as smaller cars from newcomers are nudging aside larger old stalwarts.
Though the boxy Volkswagen Santanas that fill Shanghai's taxi fleet still outnumber the Hyundai Elantras and perky Chery QQs, it's these later, smaller arrivals that are lifting profits while others' languish.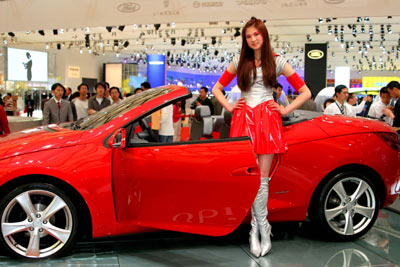 A model poses before a sedan of the Chery Automobile Co in the Shanghai International Auto Show in this picture taken April 22, 2005. [newsphoto]
China's car market is in a slump so far this year, with overall vehicle sales in the first quarter down 7.7 percent from a year ago as the government tightened credit policies and companies reduced purchases amid spending cutbacks.
But smaller, cheaper models are selling well, thanks largely to restrictions on lending for auto purchases, part of a nationwide credit tightening, analysts say.
The top three models sold in March were all compacts or mini-cars, according to the China Automobile Manufacturers Association: South Korean carmaker Hyundai Motor Co.'s Elantra, Tianjin FAW Xiali Automobile Co.'s oddly-named TJ7101U, and Chery Automobile Co.'s perky QQ.
"They have pretty suitable small cars at reasonable prices," said Yale Zhang, an auto market specialist for consulting firm CSM Asia Corp.
The slowdown has hurt several major Chinese automakers, who reported lower first-quarter earnings this past week amid price cuts and slower sales that have taken some of the gloss off the world's fastest growing car market.
State-owned FAW Car Co. reported that its net profit plunged to 22 million yuan (US$2.7 million; euro2 million) in the first three months of the year from 172.9 million yuan (US$21 million) in first quarter 2004.
FAW is the biggest shareholder in Tianjin FAW Xiali Automobile Co., which reported a first-quarter net loss of 32.1 million yuan (US$3.9 million; euro3 million), despite the popularity of its oddly-named TJ7101U, an angular hatchback. It blamed higher costs and pricing pressures.
Chongqing Changan Automobile Co., which has a partnership with Ford Motor Co., reported its first-quarter net profit fell by nearly half to 201.6 million yuan (US$24.4 million; euro18.8 million) as first-quarter sales dropped 4.5 percent from a year earlier.
In results reported earlier, Brilliance China Automotive Holdings Ltd., which makes BMW cars as well as minivans, said its net profit plummeted 95 percent on-year in 2004, while sports utility vehicle maker Great Wall Automobile Holdings Co.'s 2004 net profit slipped 23 percent from a year ago.
Early bird Volkswagen AG, which launched a joint venture with Shanghai Automotive Industry Corp. in 1984, has seen its market share drop from more to less than 20 percent in the first quarter, from about half in 2000.
VW's profits in China fell to euro222 million (US$289 million) in 2004 from euro561 million (US$729 million) a year earlier.
For the year, sales are forecast to rise 10 percent on-year, compared with 75 percent growth in 2003 and 15 percent last year.
Beijing Hyundai Motor Co., Hyundai's joint venture in Beijing, sold nearly 2.6 times as many cars in the first quarter as in the same period last year. Nearly 80 percent of its first quarter sales were Elantras ¡ª up nearly 4.4 times on-year.
Geely, which makes compact hatchbacks like the Merrie and Haoqing, reported first quarter sales of about 30,000 cars, in line with plans for 24 percent sales growth this year to 120,000 units. The company, whose shares are traded in Hong Kong, said its net profit rose by 47 percent on-year to HK$84.4 million (US$10.8 million; euro8.3 million) in 2004, helped by fast sales of its Haoqing model cars. It did not give first quarter results.
Meanwhile, Nissan-affiliate Dongfeng Automobile Co., said its first quarter net profit rose 63 percent on-year to 146.4 million yuan (US$18 million; euro14 million).
Dongfeng's passenger car sales rose 31 percent in the first quarter from a year earlier.
Lackluster sales haven't dented most manufacturers' ambitions for expansion, here and elsewhere. But they do suggest China will be a make-or-break market, where the winners will be the manufacturers that adapt most quickly to changing tastes and policy shifts.
"The reality is that our company has to stay on top of the game and not become complacent," Steven Wilhite, senior vice president at Nissan Motor Co, said while attending the Shanghai auto show, which ended Thursday. "Otherwise there is somebody who is going to be up your back very, very quickly."
Today's Top News
Top China News

Hu-Lien meeting evokes worldwide applause




DPRK expects no nuke solution in Bush term




Mixed fortunes for China automakers




Insurgents kill 17 Iraqis, US soldier




Presidents Hu, Putin to meet in Moscow




China, US to enhance military exchanges